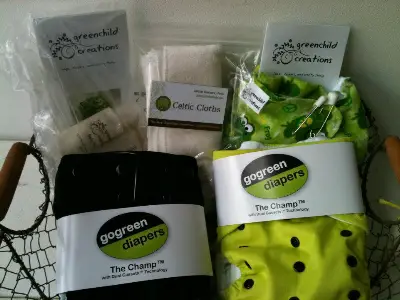 The Great Cloth Diaper Change World Record Breaking Attempt – Belly Sprout and Celtic Cloths Host to Local Santa Ana Site
Cloth diapers have come a long way in the past ten years, and The Great Cloth Diaper Change event serves to raise awareness of cloth diapering and create some added buzz and excitement too!
To do this, several people in the cloth diapering movement, including Belly Sprout and Celtic Cloths have joined forces with the nonprofit Real Diaper Association to participate in the second annual Great Cloth Diaper Change international event taking place the day before Earth Day on Saturday, April 21, 2012.
To date there are over 262 locations and counting – 248 in the USA and sites in fourteen other countries including Chile, Australia, and Switzerland. So far that's at least 6,550 babies being changed in cloth diapers at one time. The combined sites are already on their way to attempt to break last year's Guinness World Record™ of 5,026 cloth diapers changed simultaneously at 127 locations in five (5) countries.
What: "The Great Cloth Diaper Change" Santa Ana site event hosted by Belly Sprout and Celtic Cloths. Guinness World Record™ requires each Great Diaper Change site to have a minimum of 25 participants in order to count towards breaking the current world record.
When: Saturday, April 21, 2012 at 9:00am.
Where: Belly Sprout, 125-C North Broadway, Santa Ana, CA 92701
Why: Each year billions of disposable diapers enter landfills where it will take hundreds of years for them to decompose. The Great Cloth Diaper Change is an eye-opening experience for thousands of modern parents who choose to use a more planet-friendly alternative or those who deserve to know about their eco-friendly diapering options. It doesn't hurt that cloth diapering also saves cash-strapped families a substantial amount of money too, especially during these tough economic times.
Visuals: Great visuals will be available: Babies in beautiful diapers! Local Earth-loving moms and dads! Colorful cloth diapers galore! Come capture tons of excitement as we attempt to break the Guinness World Record™ of most number of diapers changed simultaneously.
Interviewees: Jamie Karutz, owner, Celtic Cloths. Christy Funk, owner, Belly Sprout
Contact: Jamie Karutz, 714-423-2606, Jamie@celticcloths.com
About Belly Sprout and Celtic Cloths: Belly Sprout is the first natural living store for families in Orange County, from pregnancy through parenthood. More than just a store, Belly Sprout is a community hub of resources, information, and education.
Celtic Cloths in an online retailer of bamboo, hemp, and PUL fabrics, as well as providing local cloth diaper consulting and education. We have everything you need to make your own cloth diapers and other natural living products!
About The Great Cloth Diaper Change: In its second year, The Great Cloth Diaper Change is an international initiative organized with the help of the nonprofit Real Diaper Association designed to show the world that cloth diapers are a real option for today's families. The brainchild of Judy Aagard of Tiny Tots in California, Aagard says she came up with the idea in an effort to host a family event celebrating Earth Day. The Great Cloth Diaper Change has morphed into an exciting Guinness World Record™ breaking event, and in 2011, more than 5,000 babies were changed simultaneously. For more information visit www.GreatClothDiaperChange.com.
This event is part of a larger (and growing) movement. Participants may contribute $1 (or more) at all North American events to assist the 501(c)(3) nonprofit Real Diaper Association in their efforts to help families across the U.S. and Canada find and use reusable cloth diapers.
###