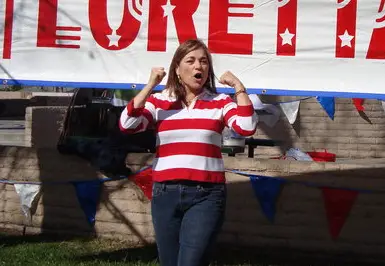 Do you remember Bob Dornan?  He was the longtime Republican Congressman in central Orange County, until Loretta Sanchez, who had been a Republican until she badly lost an Anaheim City Council race and switched to the Democratic Party, back in 1996.
Dornan ran for President in 1996, before dropping out of that race and opting instead to defend his seat against Sanchez.  
For his final successful run for Congress, in 1994, Dornan had signs posted at polling places that warned voters in Spanish that they should be prepared to prove their citizenship in order to vote, suggesting that immigration officials would be present. The success of this action was believed to have kept enough Latino voters away from the polls to eke out a final victory for Dornan against Mike Farber in an election that featured allegations of domestic violence by Dornan, according to Wikipedia.
Dornan was one of the biggest hotheads in the House of Representatives with a history of crazy actions and comments that is rivaled today only by Sanchez' own trail of awkward gaffes.
Dornan's embarrassing remarks and actions include:
Dornan made headlines in March 1985 for a confrontation with Representative Thomas Downey (D-NY) on the House floor. Downey asked Dornan about comments he had made calling Downey "a draft-dodging wimp." According to Downey, Dornan, grabbing him by collar and tie, said, "It's good you're being protected by the sergeant-at-arms. If I saw you outside, it would be a different story" and threatened him "with some form of bodily harm."
During a House debate in 1994, Dornan outed fellow Republican representative Steve Gunderson, accusing him of having a "revolving door on his closet."
In a 1986 U.S. House speech, he called Soviet journalist Vladimir Posner a "disloyal, betraying little Jew who sits there on television claiming that he is somehow or other a newsman."[11] This was the only statement Dornan apologized for, saying, "That's the only thing in my life I ever lost sleep over". Dornan also said that he intended "to say 'Judas,' not 'Jew,'" as a rebuttal to Posner's insistence that the Soviet Union was free of anti-Semitism.
"Every lesbian spear chucker in this country is hoping I get defeated." — to a Los Angeles television reporter in 1992 regarding a female challenger in the primary election.
On a January 28, 1994 appearance on Politically Incorrect, Dornan declared it was "The Year of the Penis" due to recent events in the news. This was a joke in regard to the 1992 media and political reference as that election being referred to as "The Year of the Woman", when 4 women won election to the United States Senate.
"You are a slimy coward. Go register in another party." — to Orange County (CA) Republican Central Committee member William Dougherty after he supported Dornan's opponent in 1996.
So what about Sanchez?  Well it sure seems that she is following in Dornan's rocky footsteps.  Here are just a few examples, courtesy of Wikipedia:
In August 2000, Sanchez refused to relocate a political fundraiser she had planned at the Playboy Mansion in California. As a result, Democratic National Committee chairman Joe Andrew cancelled her scheduled speaking role at the Democratic National Convention.
In September 2010, Loretta Sanchez appeared on the Spanish language network, Univisión and said that "the Vietnamese and the Republicans are – with an intensity – trying to take away 'our' seat", referring to her Vietnamese-born opponent, Van Tran. Sanchez also described Tran as "anti-immigrant."
Aside from her congressional record, the Santa Ana Democrat is known for enthusiastic dancing in the streets during Huntington Beach's annual Fourth of July parades and her sometimes coquettish holiday cards to constituents. The cards have featured her in bed with her cat, and ballroom dancing in a slinky silver dress. (Source: The O.C. Register)
She and her interns filmed a 2012 video parody of "Call Me Maybe." (Source: The O.C. Register)
Before Sanchez formally announced her Senate campaign a staffer sent out an email announcing the campaign, prematurely. (Source: The Sacramento Bee)
At a gathering organized by Bay Area Latino clubs, Sanchez recently criticized Harris for her inability to speak Spanish. (Source: The Sacramento Bee)
On May 16, 2015, when talking to a group of Indian Americans, Sanchez made a gesture mocking Native Americans by making a "war cry" that is stereotypically attributed to them. She described her confusion between Native Americans and Indian Americans prior to a meeting with an Indian-American, saying "I am going to his office, thinking that I am going to meet with a 'woo woo woo woo' (stereotypical Indian war cry) — Right? … because he said Indian American." Many in the audience were shocked at the gesture, finding it offensive. After initially running away from a reporter who tried to question her about the slur, she apologized for it on May 17, saying "in this crazy and exciting rush of meetings yesterday, I said something offensive and for that, I sincerely apologize."
California Rep. and Democratic Senate candidate Loretta Sanchez said recently she's "proudly" American Indian on her mother's side, but declined to back up the claim when questioned repeatedly by The Daily Caller News Foundation. (Source: The Daily Caller)
Dornan never should have run for President.  And Sanchez should not be running for the Senate.  Both of them overreached – and both were goofballs who could not be taken seriously when they tried to run for higher offices.
After all these years has Sanchez turned into the new Dornan?
History repeats itself, first as tragedy, second as farce – Karl Marx.