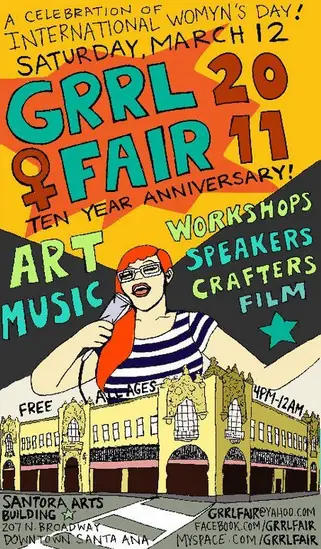 The Grrl Fair 2011 is coming to Santa Ana, on Saturday, March 12 at 4:00pm – March 13 at 12:00am, at the Santora, located at 207 N. Broadway, in Downtown Santa Ana.  Free for all ages!
This event will feature:
Sunny War
Cunt Sparrer
Bella Novela
Meow Twins
Spare Parts 4 Broken Hearts
Without the Blonde
Potential Lunatics
Mariachi Estrellas de Santa Ana
Bellhaunts
Do Not Feed the DJ
My Machete
Taller Sur
Resist and Exist
Workshops, Art, Film, Crafters and Speakers will be hosted inside various artists galleries inside the Santora building throughout the day.
Click here to RSVP on Facebook.