A groundbreaking ceremony for the Heroes Hall at the OC Fair & Event Center is set for Wednesday, March 16, from 9 to 10 a.m. at the Costa Mesa Fair and Event Center, located at 88 Fair Drive, in Costa Mesa.
Approved by the OCFEC Board of Directors in 2014, this new exhibit will be available year-round and will focus on the personal stories of veterans and pay homage to the property's Army airbase roots. The exhibit is expected to encompass more than 12,000 square feet with indoor/outdoor exhibit space. The former "Memorial Gardens" building will be relocated and repurposed as part of the overall exhibit which will also include memorabilia and tributes to California veterans. The expected completion date is Veteran's Day, November 11, 2016.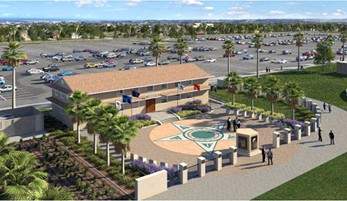 The OCFEC property was once part of the Santa Ana Army Air Base, a 1,300-plus-acre training facility used during World War II. Orange Coast College, Vanguard University, Costa Mesa High School, Davis Elementary School, Tewinkle Park and several commercial and residential areas are also on former air base land.
"As the former home of the Santa Ana Army Air Base, the OC Fair & Event Center is a natural fit for the Heroes Hall Exhibit. We are honored to host this historic exhibit and look forward to seeing it become a reality in the coming months," said OCFEC CEO Kathy Kramer.
In 2015, the OCFEC Board voted in favor of a $2 million contribution to start the funding efforts for Heroes Hall. The Board also approved the creation of the Heroes Hall Veterans Foundation to lead in fundraising for the ongoing maintenance and operation of Heroes Hall. The Foundation recently received its non-profit 501(c)3 status making any donations tax-deductible. Generous members of the community who would like to contribute to Heroes Hall are encouraged to email heroeshall@ocfair.com.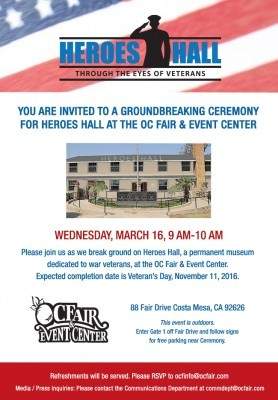 For periodic updates on the Heroes Hall exhibit, visit ocfair.com/heroeshall.
The OC Fair & Event Center is located off the 405 and 55 freeways at 88 Fair Drive in Costa Mesa. For more information, please visit ocfair.com, become a fan on Facebook.com/OCFair, follow us at twitter.com/ocfair or call (714) 708-1500.