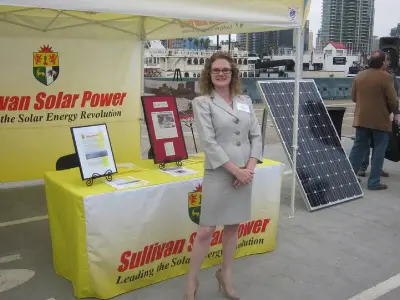 Sullivan Solar Power is hosting two informational seminars regarding the Santa Ana Solar Program. The program launches on February 6th.
The Santa Ana Solar Program Luncheons will take place on February 25 and March 24 at 11AM.  This informational presentation at the Delhi Community Center, at 505 E. Central Ave. Santa Ana, CA 92707, will cover solar technology, rebates and incentives, case studies and Santa Ana's Solar Program (valid through 5/4).
This Program allows residential and commercial property owners to go solar for no upfront cost and participants will be eligible for cash back incentives. The seminar will last approximately one hour and lunch will be provided. Attendance is not required to participate.  Click here for more information about the California Solar Rebates.
For more info contact Anne Bessinger, Community Developer @ Sullivan Solar Power, 8949 Kenamar Dr., Suite 101, San Diego, CA 92121.  Direct: 858-210-8892, Office: 858-271-7758 ex. 214, Fax. 858-271-7759, www.sullivansolarpower.com.