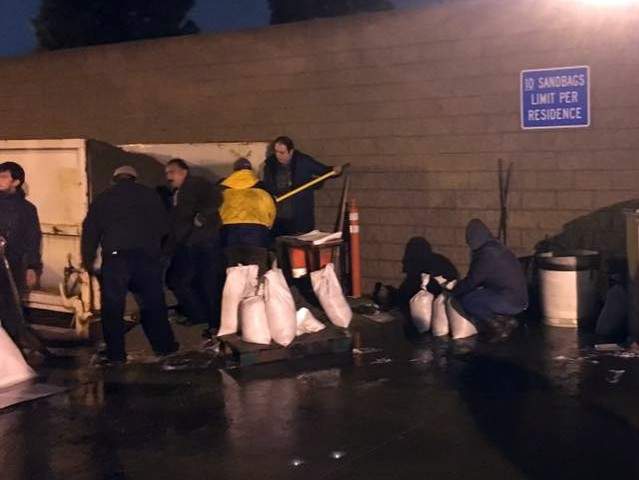 City of Santa Ana
Community: Storm Alert February 17-18, Free Sandbags Available / Alerta de Tormenta 17-18 de febrero, Sacos de Arena Gratuitos / Bao Cát Miễn Phí
A strong winter storm is in the forecast to impact Southern California late Thursday night through Saturday afternoon, with the heaviest rainfall and damaging winds occurring Thursday afternoon through Friday night. This storm has significant potential to create flooding in the City of Santa Ana and residents are encouraged to use sandbags to protect their property.
Ten (10) sandbags per resident can be picked up at the self-service sandbag station at 215 S. Center Street from 6am to 8pm Monday thru Thursday, 24 hours a day on Friday and Saturday, and all day Sunday until 8pm. For additional information, please contact the Public Works Agency at (714) 647-3380 between 7:00 am and 3:30 pm.
+++++++++++++++++++++++++++++++++++++++++++++++++++++
Alerta de Tormenta de Invierno, 17-18 de febrero de 2017
Se pronostica que una fuerte tormenta de invierno afectará al Sur de California el jueves por la noche hasta el sábado por la tarde. Se espera que las lluvias y vientos más fuertes se produzcan el jueves por la noche hasta el viernes por la noche. Hay mucha probabilidad de que esta tormenta produzca inundaciones en la Ciudad de Santa Ana, y animamos a los residentes a utilizar sacos de arena para proteger su propiedad.
Diez (10) sacos de arena están disponibles por residencia en la estación de sacos de arena, ubicada en la estación de mantenimiento (Corporate Yard), en el 215 S. Center Street de 6:00am a 8:00pm de lunes a jueves, las 24 horas al dia el viernes y sabado y todo el dia el domingo hasta las 8pm. Para obtener más información llame a la agencia de obras públicas al (714) 647-3380 entre las 7:00am y las 3:30pm.
+++++++++++++++++++++++++++++++++++++++++++++++++++++
BAO CÁT MIỄN PHÍ
Thành Phố Santa Ana cũng đang gia tâm chuẩn bị cho cơn bão mùa đông sắp đến, bao gồm cung cấp bao cát miễn phí cho cudân và các doanh nghiệp để giúp ngăn chận thiệt hại gây nên do ngập lụt.
Mỗi Cư Dân và Mỗi Doanh Nghiệp ở Thành Phố Santa Ana Được Cấp Mười Bao Cát Miển Phí.
Địa điểm cấp bao cát cho bạn tự lấy: Sân của Thành Phố Santa Ana
215 South Center
Thứ Hai – Thứ
Năm, 6 giờ sáng đến 8 giờ tối Thứ Sáu,
6 giờ sáng đến Chủ Nhật 8 giớ tối
Thêm chi tiết? Xin liên lạc đến nhân viên Cơ Quan Công Trình Công Cộng (Public Works Agency) tại số (714) 647-3380.