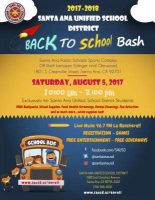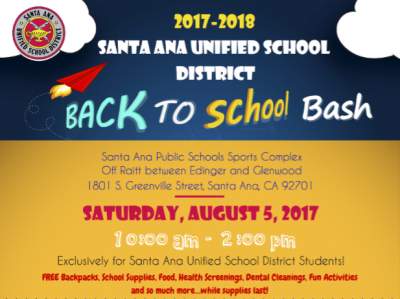 BACK TO SCHOOL BASH PLANNED FOR AUGUST 5, 2017
For the first time, the SAUSD will be hosting a Welcome Back to School Bash at the Santa Ana Public Schools Sports Complex on Saturday, August 5, 2017, from 10:00 a.m. – 2:00 p.m. to help their students prepare for the 2017-18 academic year.
During this fun-filled and educational event, students will receive free backpacks and school supplies, free health screenings, support with registration and enrolling in our district, free samples of food from Nutrition Services, and prizes and giveaways from La Ranchera 96.7 FM.
There will also be activities and student entertainment, and information on SAUSD programs.