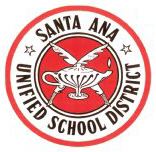 First Day of School at Santa Ana Unified Begins with a Pledge
"I Pledge" back-to-school community-wide campaign kicks off
(July 26, 2017) SANTA ANA – On the first day of school this year, every student in the seventh largest district in the state of California will take a solid pledge to stay in school until graduation day.
Monday, August 14, 2017, Santa Ana Unified District (SAUSD) will roll out an exciting new district-wide initiative that encourages every student to place a decided focus on the future. The community-wide campaign called "I Pledge" places emphasis on the year that students will graduate in order to send a powerful message to students and their families that Santa Ana Unified is committed to seeing them cross the stage to receive their diplomas.
The District will launch the campaign at the Santa Ana Unified Board of Education meeting Wednesday, August 8, 2017 where many administrators and staff will be wearing shirts from their alma mater, favorite college or a trade profession (police, firefighters, chefs, mechanics, military, etc.).
On the first day of school, the "I Pledge" back-to-school campaign will include:
* Teachers, administrators and staff wearing shirts from their alma mater, favorite college or a trade.
* School assemblies focused on graduating from high school with opportunities for college and career.
* A powerful message from the school principal and teachers at the assembly about what graduating from high school meant to them and how it has helped them reach their goals.
* A sticker for each student that includes their graduation year. For example, a first-grader's sticker will say "Class of 2030."
* An opportunity for students to sign "I Pledge" cards committing to graduate from high school.
* Students writing about where they want to attend college in middle and high school English language arts classes.
The "I Pledge" campaign helps students to look ahead to high school graduation and set goals to make sure they graduate on time and have opportunities for college and career.
Santa Ana Unified School District serves approximately 50,000 students in grades K-12 and has a 92% graduation rate, surpassing the state average of 83.2% and the county average of 90.8%. Middle College, Godinez and Segerstrom were recently featured on the nationally recognized U.S. News & World Report Best High Schools List. With dozens of educational options and multiple pathway to success, our students excel in all the core academic areas making us a top district of academic choice.