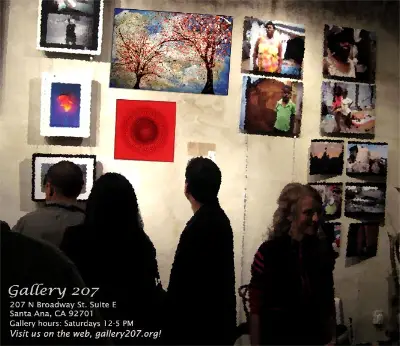 For Immediate Release
Jaydee Dizon. 310.962.4520
Gallery 207 Artists Sponsors Student Artwork From Bonita Street Elementary
Show us some love and support on Saturday, February 4th from 6-10 PM as Gallery 207 artists, Ben Walker, Jaydee Dizon, Mica Teal, and Caesar Alzate Jr. promotes student artwork from Ms. Modino's 5th grade students at Bonita Street Elementary. Artwork is exhibited at Gallery 207 inside the historical Santora Arts Building complex in downtown Santa Ana from February 4th through February 25th.
Gallery 207 features the following artworks for February 2012:
Students from Bonita Street Elementary in Carson, CA benefited from the Arts Prototype program for many years. Art teachers visit selected classrooms and teach visual arts, drama, and dance lessons that meet grade-level academic standards. Mrs. Modino's fifth grade class showcased her student's artwork. The artists have chosen their own work and provided a brief statement.
Ben Walker displays new art from his popular tree series that is created by dripping fluid acrylic paint onto canvas.
Mica Teal is an artist who uses the camera as a tool for her expression to teach about simplicity and a beautiful connection to the world that people overlook. Finding the light in the dark, encouraging inspiration so others aspire is the underlying tone found in her work. She delicately highlights the destructive social norms in her newest photo series titled "Beautiful Truths."
Caesar Alzate Jr., a new artist whose mix medium artworks exhibited recently from Coastline Community College Art Gallery is now being featured at Gallery 207's walls.
Gallery 207 is dedicated in promoting traditional and contemporary artists from Southern and Northern California and plans to build relationships all over the US and internationally in the near future.
Gallery 207
207 N. Broadway Street, Suite E, Santa Ana, CA 92701
Gallery hours: Saturdays 12-5 PM
Closing Reception: Saturday, February 25th 12-5 PM
Visit us on the web at http://gallery207.org for more information!
END