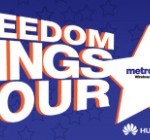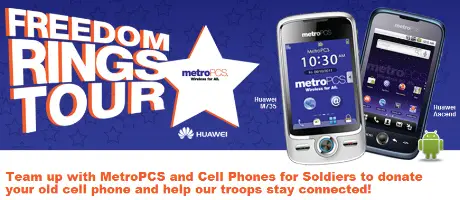 MetroPCS Freedom Rings Tour Visits Los Angeles, Collecting Recycled Cell Phones to Benefit Cell Phone for Soldiers
Partnership aims to provide more calling funds for soldiers overseas
WHAT: The Freedom Rings Tour bus is visiting Los Angeles and accepting donations for Cell Phone for Soldiers, a non-profit organization that recycles old cell phones into prepaid calling cards for U.S. troops stationed overseas. MetroPCS' partnership with Cell Phone for Soldiers is part of an initiative to ensure more cell phones are recycled so every soldier has means to call home.
Local residents can stop by the Freedom Rings Tour to drop off their old cell phones and learn more about MetroPCS and Huawei's latest cell phones: the Huawei Ascend and Huawei M735.
Attendees will also have a chance to name a future Huawei cell phone and participate in several giveaways at the event.
WHEN/WHERE: 6/24/2011 4pm MetroPCS- retail store 2307 S. Bristol Street Santa Ana 92704
CONTACT: Bridgette Haxton with GolinHarris at bhaxton@golinharris.com or 972.341.2509
For More Information:
www.twitter.com/MetroPCS,
www.Facebook.com/MetroPCS,
http://www.freedomringstour.com/
About Cell Phone for Soldiers
Cell Phones for Soldiers was founded by teenagers Robbie and Brittany Bergquist from Norwell, Massachusetts, with $21 of their own money. Since then, the registered 501c3 non-profit organization has raised almost $2 million in donations and distributed more than 500,000 prepaid calling cards to soldiers serving overseas.
Through increased fundraising efforts, the Bergquist family hopes to raise more than $9 million in the next five years to fund new programs, such as providing video phones with prepaid service to allow soldiers abroad to see their families on a regular basis.
About MetroPCS Communications, Inc.
Dallas-based MetroPCS Communications, Inc. is a provider of unlimited wireless communications service for a flat-rate with no annual contract. MetroPCS is the fifth largest facilities-based wireless carrier in the United States based on number of subscribers served. With Metro USA, MetroPCS customers can use their services in areas throughout the United States covering a population of over 280 million people. As of December 31, 2010, MetroPCS had over 8.1 million subscribers. For more information please visit www.metropcs.com.
# # #