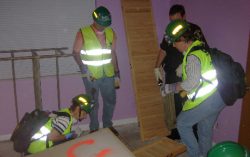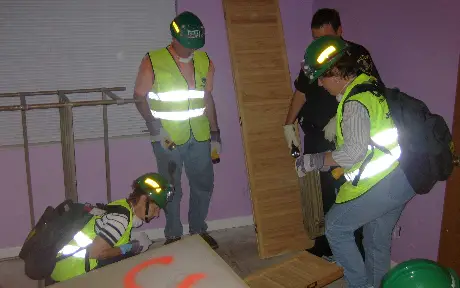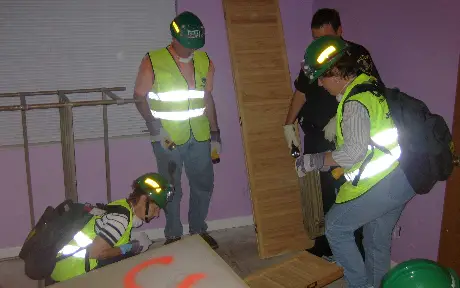 Press Release: May 4, 2011
Contact: William Cunningham, Santa Ana Police Foundation
BERT-Certification, Class – 3
SA-BERT (Santa Ana area Business Emergency Response Team Certification)
Invitation to participate in the third BERT-CERTIFICATION class.
Introduction/Orientation on Thursday May 12, 2011 8:30am at invitation of Santa Ana Police Chief Paul Walters.
This is a limited-space class only offered three times per year.
Visit www.sapdf.org and then click on purple triangle to find out more.
ADVANCE INVITATION REQUIRED. Call or write for invitation, as soon as practical.
Santa Ana Police Foundation
Mailing address: 2321 E 4th St., Ste C-175
Santa Ana, CA 92705
info@sapdf.org
714/972-0200
The Santa Ana Urban Area – Business Emergency Response Team (SAUA-BERT) is a group of business leaders organized under a 501(c)(3) public charity. The SAUA-BERT recognizes that in the event of a systemic catastrophe such as earthquake, flood, fire, or terrorist attack, first responders will be overwhelmed and emergency response resources will be limited. As employers within the Santa Ana Urban Area this organized group of business leaders realizes they must take a proactive approach to emergency preparedness in order to support emergency response agencies.
The purpose of BERT is to prepare and protect employees and their families before and during a catastrophe; and, provide a job for them to come back to after the event has been mitigated. This is accomplished by training key personnel at businesses in how to react themselves and lead their fellow employees through a safe, orderly evacuation, and on-going evaluation of their surroundings. With orderly communications between fellow BERT members and the local Emergency Operations Center (EOC), those business leaders can make informed decisions to lead their staff safely and securely through a potentially formidable situation.
The BERT training is based on the Community Emergency Response Team (CERT) curriculum developed by the United States Department of Homeland Security (DHS). BERT members can achieve BERT-Certification by first completing the DHS approved CERT curriculum. Added to each CERT module is a class discussion of how the principles can be brought to the individual businesses. For example, after the CERT Disaster Medical Operations module is presented to the students, a discussion ensues on what type of first aid equipment and materials should be readily available at the respective businesses. All the modules, Fire Safety & Suppression, Light Search and Rescue and Disaster Psychology all have a business emphasis/component.
The BERT certification classes are organized utilizing the Incident Command System (ICS). Emphasis is placed on the command and control concept of seven-person management balances the class attendees from the small office with seven employees to the large employer with 70, 700, or 7,000. The small business has one multiple of seven; the large employer has many multiples. Further, by understanding the key principals used by First Responders in a disaster, those that are BERT-Certified can hand-off the management of a crisis to a First Responder with as little duplication of effort as possible.
It is clear both in the public and private sectors that businesses are not insular. In the event of a catastrophe businesses may have to rely on neighboring businesses for actual support. An additional benefit for BERT Certified businesses is the opportunity to build relationships with neighboring businesses around the focus of emergency preparedness, before disaster strikes. BERT members recognize that taking care of their employees' families and their neighboring businesses is imperative to a comprehensive, effective emergency plan. BERT sets firm on a foundation that focuses on three specific questions: 1) What can we provide to our community? 2) What do we need from our community? 3) How do we prepare ourselves?
Once the employees of the participating business attain BERT Certification, those businesses meet monthly for a training session that has a three-fold purpose: 1) Program awareness to both certified and non-certified businesses 2) Maintain radio proficiency for certified businesses 3) Reinforce the BERT-certification training through refresher classes and quarterly exercises.
The SAUA-BERT is committed to not only improving the preparedness of businesses but the enhanced communication between businesses and public safety. In partnership with the City of Santa Ana and the American Red Cross, BERT has purchased and installed a radio antenna on top of city hall and secured a dedicated radio frequency through the American Red Cross. The 34 BERT certified businesses are committed to completing the BERT radio network through the leveraging of private funds and grant funds. Additionally, BERT has committed to the funding the maintenance of the radio network.
As a pilot project the primary area of influence encompasses the Santa Ana Area bounded by three freeways which, in the event of a catastrophe could isolate the entire region by limiting vehicle ingress or egress. All 34 participating businesses currently reside within identified area.
Radios to complete the implementation of the radio network would be purchased by the Anaheim/Santa Ana Urban Area. These radios would be issued to businesses upon completion of BERT Certification and the commitment of the maintenance subscription to be administered and managed by non-profit public charity foundation for the BERT Program.
Santa Ana Urban Area
These businesspeople are much more than trained; they are a cohesive group that will have a powerful effect on our community by dramatically extending the reach of our first responders, should the need arise.
We are administered by the Santa Ana Police Foundation, and managed by the needs of our community. We are actively developing radio communications, monthly training, and equipment & supplies emergency stock recommendations.