Santa Ana residents who have questions about COVID-19 can now receive free counseling from a registered nurse.
The City of Santa Ana is providing a free nurse advice hotline as part of the Santa Ana CARES pandemic assistance program. The nurse line began operating today, Sept. 28, 2020.
Call 800-589-8776.
The service is available 24 hours a day, seven days a week in English, Spanish, Vietnamese and dozens of other languages. The nurse line is only for Santa Ana residents.
For more information on Santa Ana CARES, including free COVID-19 testing and financial assistance, please visit www.santa-ana.org/CARES.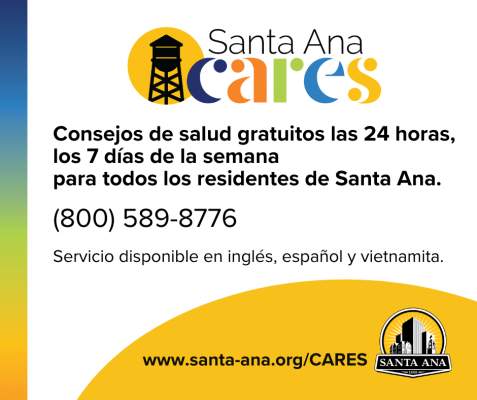 Línea de Ayuda Gratis de Enfermería para COVID-19 para Residentes
Los residentes de Santa Ana que tengan preguntas sobre COVID-19 ahora pueden recibir asesoramiento gratuito de una enfermera titulada.
La Ciudad de Santa Ana está proporcionando una línea directa gratis de consejos de enfermería como parte del programa de asistencia pandémica Santa Ana CARES. La línea de enfermería comenzó a operar hoy, el 28 de septiembre del 2020.
Llame al 800-589-8776.
El servicio está disponible las 24 horas del día, los siete días de la semana en inglés, español, vietnamita y decenas de otros idiomas. La línea de enfermería es solo para residentes de Santa Ana.
Para obtener más información sobre Santa Ana CARES, incluidas las pruebas COVID-19 gratuitas y asistencia financiera, visite www.santa-ana.org/CARES.