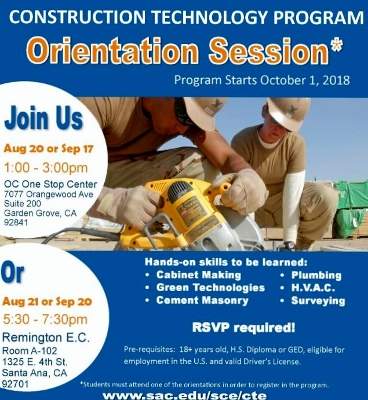 City of Santa Ana
Community Alert: Free Training in Construction Technology – Orientation Sessions Available
Construction Technology Program available for individuals that like working outdoors, using hand tools, and have an interest in the construction industry. The Construction Technology Program provides training in various apprenticeship construction trades, such as: Carpentry, Iron Worker, Electrical, Plumbing and many more.
Upon completion of the Construction Technology Program candidates will be interviewed by the Local Trade Unions, with opportunities to be placed in an apprenticeship and earn while you learn.
Information Session available:
• Monday, August 20th from 1:00pm-3:00pm and Monday, September 17th from 1:00pm-3:00pm, located at 7077 Orangewood Ave. Suite 200, Garden Grove, CA 92841
RSVP Required: Matt Macualey: 949-341-8031 or via email matthew.macauley@oconestop.comat
• Tuesday, August 21st and Thursday, September 20th, from 5:30pm-7:30pm, at Remington Education Center, located at 1325 E. 4th St., Santa Ana, CA 92701 in room A-102.
RSVP Required: Dora Holguin: 714.565.2633 or via email dholguin@santa-ana.org
Program is limited to 35 people
Program requirements: Must be 18 years or older (no maximum), must have right to work documents (Picture ID/Social Security Card/Passport) must have a high school diploma or GED and must possess a valid driver's license.
For any questions, please contact: Dora Holguin at the Santa Ana Work Center: 714.565.2633 or dholguin@santa-ana.org