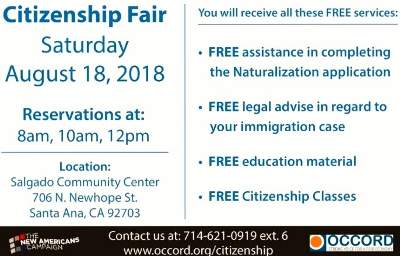 City of Santa Ana
Community: FREE CITIZENSHIP FAIR AND CALL FOR VOLUNTEERS / FERIA DE CIUDADANÍA GRATUITA Y LLAMADO A VOLUNTARIOS
In Orange County there is an estimated 175,000 immigrants who are eligible to become citizens but had not yet done so. NOW IS THE TIME TO BECOME A CITIZEN!
The City of Santa Ana, in partnership with Orange County Communities Organized for Responsible Development (OCCORD) and World Relief, are proud to present a FREE Citizenship Fair on Saturday, August 18, 2018 at the Salgado Community Center from 8am-1pm (706 N. Newhope Street, Santa Ana, CA 92703). The FREE Citizenship Fair will provide direct one-on-one assistance.
Services include:
Citizenship Application Assistance N-400
Legal advice on the Naturalization Process
Citizenship Classes
Citizenship Educational Materials
Immigration Fee Waiver for Low-Income
"The citizenship fair is part of a concerted effort to facilitate the path towards citizenship for Orange County immigrants and to encourage eligible legal permanent residents to become citizens and to fully participate in the American political process," said Councilmember Vicente Sarmiento.
"Democracy depends on citizenry and America needs more citizens. OCCORD is committed to help the 170,000+ eligible legal permanent residents in Orange County to become citizens of the United States," said Shakeel Syed, Executive Director of OCCORD.
There is also a need for general volunteers, volunteer attorneys, and Spanish interpreters during the Citizenship Fair. To volunteer please contact My Nguyen at (714) 621-0919 ext. 17 or (816) 929-5358.
Citizenship Fair Information:
En el Condado de Orange hay aproximadamente 175,000 inmigrantes que son elegibles para convertirse en ciudadanos, pero aún no lo han hecho. ¡AHORA ES EL MOMENTO DE CONVERTIRSE EN CIUDADANO!
La Cuidad de Santa Ana, en colaboración con Orange County Communities Organized for Responsible Development (OCCORD) y World Relief se orgullecen en presentar una Feria de Ciudadanía GRATUITA el sábado 18 de agosto de 8 am a 1 pm en el Salgado Community Center (706 N. Newhope Street, Santa Ana, CA 92703).
La Feria de Ciudadanía es gratuita y ofrecerá:
• Asistencia con la Aplicación N-400
• Asistencia Legal para la Naturalización
• Cursos de Ciudadanía
• Materiales Educativos
• Perdón de Tarifa de Inmigración Disponible Para Personas de Bajos Recursos
"La feria de ciudadanía es parte de un esfuerzo concertado para facilitar el camino hacia la ciudadanía para los inmigrantes del Condado de Orange y apoyar a los residentes permanentes legales elegibles a convertirse en ciudadanos y participar enteramente en el proceso político estadounidense," dijo el concejal Vicente Sarmiento.
"La democracia depende de la ciudadanía y Estados Unidos necesita más ciudadanos. OCCORD se compromete a ayudar a los más de 170,000 residentes permanentes legales elegibles en el Condado de Orange a convertirse en ciudadanos de los Estados Unidos ", dijo Shakeel Syed, Director Ejecutivo de OCCORD.
También hay una necesidad de voluntarios generales, abogados voluntarios e intérpretes de español durante la Feria de Ciudadanía. Para ser voluntario, comuníquese con My Nguyen al (714) 621-0919 ext. 17 o (816) 929-5358.
Información de la Feria de Ciudadanía:
Sábado, 18 de agosto de 2018, 8AM – 1PM
Centro Comunitario Salgado 706 N. Newhope St., Santa Ana, CA 92703
Visite https://www.occord.org/citizenship para hacer su cita o llámenos al teléfono (714) 621-0919 ext. 6