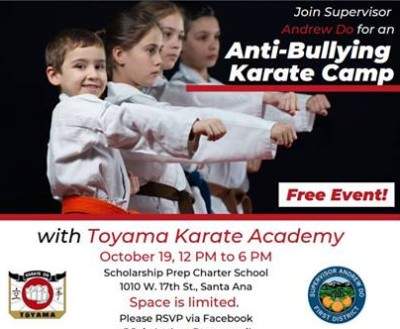 Bullying – both online and off – can have a devastating effect on a child.
According to the National Center for Educational Statistics, more than one out of every five students report being bullied. As a parent, it's not always easy to identify the early warning signs or detect when a child is facing a tormentor at school, in their neighborhood or on social media.
To address the problem of bullying, Supervisor Andrew Do is sponsoring a free Anti-Bullying Karate Camp Day at Scholarship Prep Charter School in Santa Ana on Saturday, October 19th. The event is designed to help children between the ages of 10 to 13 physically protect themselves and gain confidence.
"This is a great opportunity for children to learn about leadership, self-defense, discipline, and most importantly awareness of tolerance and acceptance," said Supervisor Do.
Instructors from Toyama Karate-Do will be leading three interactive workshops followed by a parent presentation, where students will perform their new karate skills and share some of the lessons learned that day.
"Bullying can threaten a child's emotional and physical safety and negatively affect their self-esteem," said Supervisor Do. "We want this event to be an opportunity for parents to start the conversation with their families about bullying."
Event: Anti-Bullying Karate Camp Day
Age Group: Youth Ages 10-13
Date: Saturday, October 19, 2019
Time: 12 PM to 6 PM
Location: Scholarship Prep Charter School
1010 W. 17th St., Santa Ana, CA 92706
RSVP: Space is limited.
Please RSVP via Facebook or reply to
First.District@ocgov.com