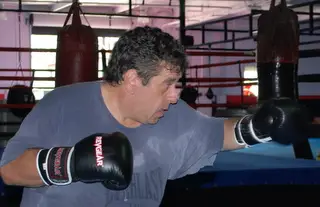 "Clash of the Columnists: A Boxing Showcase for Charity:" Frank "Kid" Mickadeit VS "Dukin" David Whiting
Presented by South Coast Martial Arts on July 20, 2011 from 8:00-9:00 PM
Irvine, CA – South Coast Martial Arts is sponsoring a knockout event at its Costa Mesa center on July 20. Watch Orange County Register columnists Frank "Kid" Mickadeit and David "Dukin' Dave" Whiting go glove to glove to raise money for their favorite charities.
The peeps in OC Register management want us to make it quite clear they're not sponsoring this event and don't condone this craziness in any way shape or form. Thank goodness South Coast Martial Arts owners Gina and Joaquin Sahagan are as fun loving as Frank, Dave and see nothing wrong with columnists sparring more than words!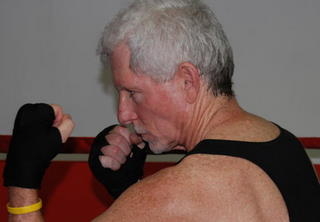 Mickadeit will be fighting for the Friends of Dorothy Guild benefiting AIDS Services Foundation OC and Whiting will be battling for his favorite cause, Challenged Athletes Foundation. South Coast Martial Arts is supporting Walking Tall Foundation.
The match was suggested by Friends of Dorothy Guild Founder and OC Register columnist Barbara Venezia. It began as an idea for Mickadeit's annual summer adventure. He approached Whiting, and the bout was on. "This is going to be great fun and raise money for three fine charities," said Venezia. "The guys are taking it very seriously, training every day."
The columnists have been training for a month and will go three, two-minute rounds. 100% of the funds they raise through underwriting will benefit the charities. The match is set for Wednesday, July 20 from 8:00 p.m. to 9:00 p.m. at South Coast Martial Arts, 2990 Grace Lane in Costa Mesa. Doors open at 7:30
p.m.
July 15th at 2:30 p.m. there will be the traditional trash talking Weigh-In press conference at South Coast Martial Arts.
The July 20th's event will begin with a ladies boxing exhibition followed by a bout between Frank and Dave's trainers (Raul Franco and Bobby Chavez respectively). The Main Event features Frank and Dave. The Friends of Dorothy's own drag queen diva, Dee W IEye will be serving as Ring Girl, and South Coast Martial Arts owner Joaquin Sahagan will be the referee for the night.
To support your fighter, and reserve seating visit at the event visit www.bvontv.com. There are no tickets to this event, but you can make a donation to any of our listed charities to secure a seat at the "Clash of the Columnists."
Media contact: Tim Dunn, The Friends of Dorothy Guild PR Chair, 714/543.6687 or timothybdunn@yahoo.com or event chairman Barbara Venezia at bvontv@earthlink.net.
No spike high heels in the gym please!
###