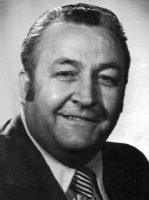 From: SAPD Police Chief David Valentin
Subject: Passing of Retired SAPD CHIEF RAY DAVIS #246
It is with sadness that I share with everyone the passing today of Retired Chief of Police Raymond C. Davis.
Chief Davis retired from the Santa Ana Police Department in 1987 (1973-1987). Chief Davis was an exceptional leader and pioneer in community policing strategies, when this philosophy was in its infancy in the 1970's.
Chief Davis led our Department to an unprecedented reduction in crime, revolutionized our Department's service which was based on treating everyone equally and along the way, brought Statewide and National recognition to the Santa Ana Police Department as a premier law enforcement organization. Chief Davis centered his policing strategies on the importance of building and sustaining community trust, harnessing the value of community input; while concurrently holding everyone accountable – the Department and the community.
I personally visited with Chief Davis' wife and daughter today at their home in Santa Ana to extend our Department's condolences for their loss and genuinely express our appreciation for the leader that had done so much for our Department.
The family was overwhelmed with appreciation and shared with me the love, honor and respect that both they and especially Chief Davis had for our Department every day of his living life.
I also expressed to the Davis Family that our proud Department is continuing the good work today he initiated so long ago – in treating everyone with dignity and respect, and protecting those that can't protect themselves.
Respectfully,
& in Honor of CHIEF RAY DAVIS,
DAVID VALENTIN
Chief of Police
Santa Ana Police Department
Funeral Services for Capt. Davis
Brown Colonial Mortuary
204 W. 17th Street, Santa Ana
April 4, Wednesday, viewing from 1000 -1100 hours
Service from 1100-1200 hours
1200 hours – Police flag folding and Honor Guard presentations
A reception will take place following mortuary services at Avila's El Ranchito, 2201 E. 1st Street, Santa Ana.
Gravesite services will be conducted in Fentress County, Tennessee at a later date.