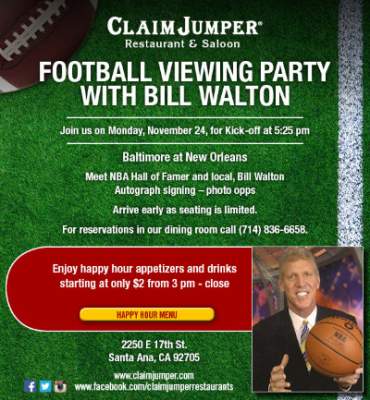 UCLA basketball legend Bill Walton, a member of the Naismith Memorial Basketball Hall of Fame, the San Diego Hall of Champions and the Oregon Sports Hall of Fame, will be appearing at the Claim Jumper located at 2250 E. 17th St., in Santa Ana, on Monday, November 24, 2014, at 5:25 pm, for a Football Viewing Party featuring the Baltimore Ravens versus the New Orleans Saints.
Walton will be signing autographs and there will be photo opportunities.  Arrive early as seating is limited.  Dinner reservations are recommended and can be accommodated for all party sizes in the Dining Room.  For reservations call (714) 836-6658.
Walton achieved superstardom while playing for the UCLA Bruins in the early '70s, winning three successive College Player of the Year Awards and leading the Bruins to two Division I national titles. In his professional career, Walton was NBA Most Valuable Player and took home two NBA championships for Portland Trail Blazers in 1977 and Boston Celtics in 1986.
While watching the football game, guests can enjoy happy hour appetizers and drinks starting at only $2 from 3 PM till close. Indulge in specials like Buffalo Chicken Wings, homemade pretzel sticks, Miner's Chili Dog, or the Widow Maker Burger, each perfectly complemented with $4 premium draft beer pints and select cocktails and wines for only $5.
Walton will be showcasing his latest investment, Azuñia Tequila,  Claim Jumper recently signed a deal to carry the brand at its restaurants, including Claim Jumper and Texas-based Saltgrass Steakhouse. Azuñia Tequila is unaged, organic and is double-distilled.  It is made of 100% Weber Blue Agave.  You can try Walton's new Azuñia Silver Tequila in Claim Jumper's classic margarita, Bom-A-Rita.