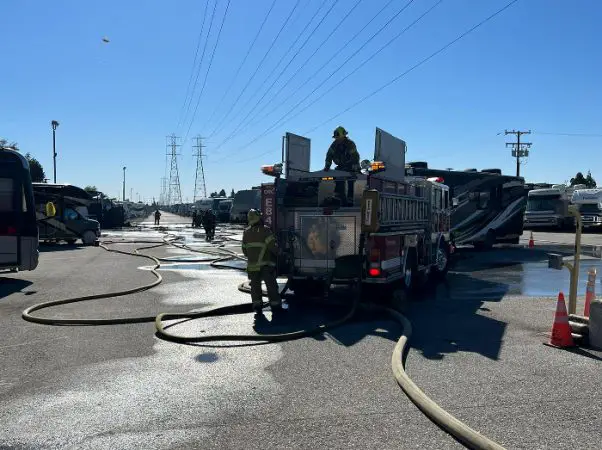 911 calls at 10:43 a.m. reported a fire near the railroad tracks in Garden Grove with propane tanks exploding, RV's involved, and a building on fire. OCFA fire crews arrived to RV's on fire and the fire was quickly spreading.
Approximately 80 firefighters responded as part of three alarms knocking down the RV fire at the 7500 block of Chapman in Garden Grove.
Fire crews also were dispatched to fight a second fire one block away at the 12000 block of Western. Investigators were sent to that scene. Firefighters were handling challenges such as a Red Flag Warning wind, high-power lines, and railroad tracks.
A third blaze — a small exterior fire on Western Avenue — was also quickly put out.
The cause was determined to be unintentional, originating in a transient-occupied area next to the railroad tracks with the strong winds spreading the fire to the RV storage lot and the locations on Western. The pallets were determined to contain materials used to make cleaning wipes.
The responding firefighters were from the Orange, Anaheim and Huntington Beach fire departments, as well as the Orange County Fire Authority.
No injuries were reported.