Float your way to Discovery Science Center for Orange County's most astounding spring break bubble spectacular! It's good, clean fun for the entire family as Bubble Scientist Fan Yang brings his Gazillion Bubble Show to Southern California, from March 27 – April 11, 2010.
Orange County's Most Astounding Spring Break Event!
Hands-on bubble activities demonstrate a bubble's science and math principles (such as surface tension, elasticity, air pressure, molecular properties, and geometric properties), while Fan Yang's Gazillion Bubble Show puts those theories to the ultimate test.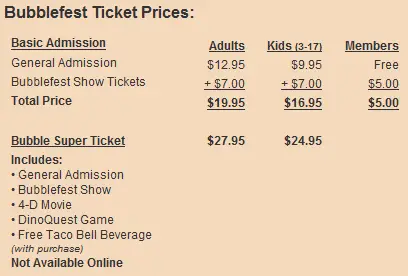 Leading the excitement is sixteen-time Guinness Book World Record Holder and Bubble Scientist, Fan Yang. Yang has been performing his amazing "Gazillion Bubble Show" in New York City. Yang has been featured on TV networks around the globe. Discovery Science Center is proud to be his only West coast engagement this year. World-renowned for his unique and stunning artistry, Yang performs four bubble shows daily at BubbleFest featuring a bubble carousel, bubbles within bubbles, smoking bubbles, spinning bubbles, bouncing bubbles and bubbles in all shapes and sizes.
Included with general admission to Discovery Science Center are bubble learning stations and the Center's more than 100 permanent hands-on exhibits. At the bubble learning stations, bubble-blowers can also explore the secrets and sciences behind making the biggest and best bubbles including surface tension, elasticity, air pressure, molecular properties and geometric properties. Visitors may conduct experiments to determine how to make the biggest bubble, how to have their bubble last the longest and how to touch the inside of a bubble.
Also offered during BubbleFest is a unique experience – "Me in a Bubble" – where guests can have their photo taken inside a giant soap bubble as proof it can be done! (Additional fee required.)
Buy tickets online at this link.  Visit a local Ralphs supermarket for a coupon worth $5 off general admission to the Discovery Science Center.  Bubblefest is not available as part of general admission as there is an extra fee.
Santa Ana residents can visit the Discovery Science Center for FREE on the first Monday of the month, which is coming up on April 5.