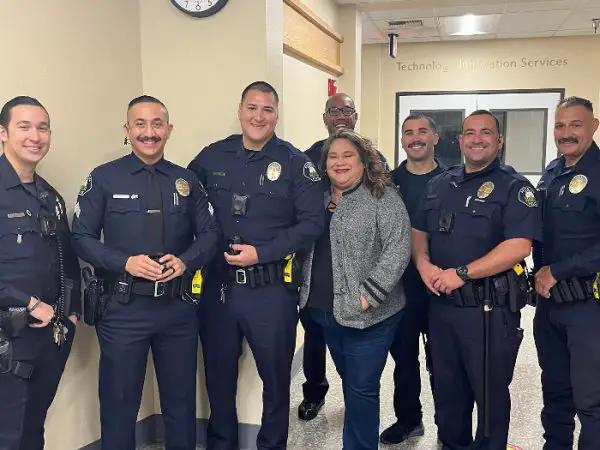 The early 2022 General Election results are in and the good news is that the anti-police candidates in Santa Ana are not faring well.
Mayoral candidate Valerie Amezcua, who retired from the O.C. Probation Department, is comfortably leading in the mayoral race with over 40% of the vote. The anti-police mayoral candidate, Sal Tinajero, is currently way behind her in third place. Amezcua has almost 3,000 more votes than Tinajero. If Amezcua hangs on for the victory she will be Santa Ana's first woman Mayor in its 153 year history, and also the first Latina to serve in that capacity.
The incumbent Santa Ana Council Members, including Phil Bacerra, David Penaloza and Nelida Mendoza, are also all leading their anti-police opponents however Mendoza is only about 140 votes ahead of her opponent, Benjamin Vazquez.
Amazingly Bacerra has the biggest vote of all the City Council candidates – although he is running in a Ward that is majority Latino. Bacerra is a Filipino-American. He is also a great Council Member and tonight he is meriting the fruits of his labor.
Santa Ana's current Mayor, Vicente Sarmiento, is also in big trouble in the race to become our next County Supervisor. He is only about 500 votes ahead of his opponent, Garden Grove City Councilwoman Kim Bernice Nguyen. While the 2nd Supervisorial District was gerrymandered to be a Latino seat Sarmiento, unwisely, spent the last two years catering to criminals and the undocumented. Those are two groups of residents who cannot vote.
Nguyen also is likely benefiting from not only the burgeoning Asian vote but also the votes of all the residents who still support our police. Sarmiento referred to police officers as murderers but in so doing he may have murdered his own political career.
The race for the only open seat on the SAUSD School Board is very close. Sylvia Iglesias is leading but Katelyn Aceves is right behind her as is Andrew Linares. The race is still too close to call.
The good news is that Measure H won resoundingly which means we will finally have term limits for the SAUSD Trustees.
Santa Ana's Measures W and X also are looking likely to pass.