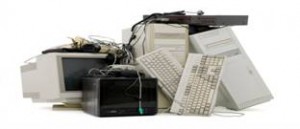 An e-Waste Collection Event In Support of the Church of the Foothills, is set for Sunday, October 28th 2012, from 8:00am – 1:00pm, at 19211 Dodge Avenue at Newport, in Santa Ana. The Church of the Foothills will accept functioning and non functioning: TVs, Computer Monitors, Laptops, Big Screen TVs, Computer Towers, Cell Phones, inkjet/toner cartridges etc.
The recycling will be done by PBC Waste Solutions, 800-381-6898 Ext 28.  They can help you to properly recycle your unwanted/unused electronic waste, and you will be helping us raise funds to support our ongoing work in our community and beyond.
Note: The Curch of the Foothills must collect a valid name, address and phone number of the California Resident who donates one of
the following functioning or non functioning items: TV (glass), TV (Projection),Monitor (glass), TV (flat screen), Monitor (flat screen).