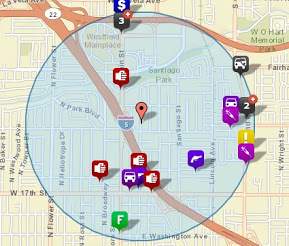 Crime is rising even as scores of yuppies are moving into Santa Ana's Park Santiago Neighborhood.  It has been a rude awakening for those who were expecting a vibrant city, not one awash in criminal activity.
This struck particularly close to home on June 4, at 7:19 pm, when there was allegedly a drive by shooting at the 900 block of E. 19th St, according to CrimeMapping and a commenter on the Park Santiago Nextdoor website.

The Santa Ana Police Department does not post their crime logs unlike the cities of Anaheim and Irvine and the OC Sheriff's Department so I can't confirm this event but CrimeMapping is pretty accurate.
Needless to say the City of Santa Ana did not publicize this crime via their propaganda service, Nixle.com.