Dr. Wolff & Ellen Brown Challenge Capitalism (Municipal/Public Banking, Worker Cooperatives)
Tickets and more info is available here – http://drrickwolffinoc.brownpapertickets.com/
KPFK's Bibliography's Andrew Tonkovich, Ellen Brown, Founder of the Public Banking Institute, and world renowned economist Dr. Richard Wolff will present a diagnosis of our country's prevailing economic problems and the contradictions facing today's society in Santa Ana on Thursday, February 12, 2015,  at 6:30 pm.
They will introduce viable/vetted alternatives as an antidote for the mass of people, who are financially ailing, and heightening a collective awareness that America's status quo supports a system that allows a small minority of the people to benefit at the expense of the environment and the majority of the people who create the majority of the wealth for them. Finally, America has a cure for capitalism.
Dr. Richard Wolff is professor emeritus at the University of Massachussetts at Amherst where he was a professor of Economics from 1973 – 2008. He received his Bachelors Degree at Harvard University, his Masters Degree at Stanford University, and his Doctorate at Yale University.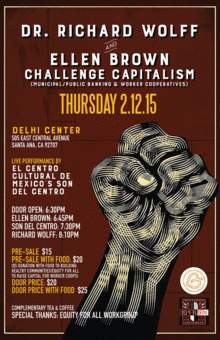 A genuine poster child for elite education but he did not follow the same path as his classmates such as current Chair of the Board of Governors of the Federal Reserve System Janet Yellen or even to aspire to follow in the foot steps of his Nobel Peace Prize winning and economist icon teacher James Tobin… He chose instead to put all his time and energy into the then suppressed field of economics pioneered by Karl Marx… the critical tradition of capitalism.
Largely existing on the margins of the economics field, mainly due to the Cold War political atmosphere and its continued but diminishing residual effects, he has now risen out of the shadows of obscurity since the 2008 Global Financial Meltdown and into the national spot light. He contends that is it not him that has lead to his success because he has been saying the same exact thing for 40 years but it is the changing tides of American society that has gotten him to where he is at now.
He has been featured on such television shows as the Thom Hartmann Program/The Big Picture, Bill Moyers and Company, Charlie Rose, Democracy Now, and Real Time With Bill Maher. In 2011, he founded a radio program called Economic Update produced by WBAI radio in New York City which is now syndicated by 35+ radio stations worldwide; the number grows every year. He is one of only a minute number of public intellectuals today that have even been granted access via radio & television to showcase his genre of critical analysis and economic alternatives to mainstream America: an absolute impossibility only six years ago.
Before becoming a well known public intellectual he had gained recognition in the field of economics for his work in Class Analysis, Economic Methodology, and his refinements and expansions in the field of Marxian Economics along with his academic partner the late Stephen Resnick (1938-2013). He is a major proponent for Worker Cooperatives AKA Worker Self Directed Enterprises, Public Banking, and touches on the subject of Autogestion as another form of economic progression.
Ellen Brown is a political economist best known for her advocacy for public banking. She is the President and Founder of the Public Banking Institute which is a nation wide organization that is helping mobilize and push different cities and states around the nation, most keenly felt in San Francisco and Philadelphia. She appeared on such television programs such as Fox Business Network, Thom Hartmann Program/The Big Picture, and Al Jazeera America and has written for columns for the following news outlets: New York Times, Washington Post, Truth Out, Huffington Post, among others.
The ideas she is pushing could be a life saver for cities just like Santa Ana and other cities in Southern California that have committed pending financial suicide with Capital Appreciation Bonds or committed financial suicide by filing Bankruptcy like San Bernardino. Her inspiration has been the Bank of North Dakota that has existed there for the last 96 years and has contributed to that states economic insulation from the global financial meltdown and budget surplus.
Andrew Tonkovich is an Orange County based activist that edits the West Coast literary magazine, Santa Monica Review, and hosts Bibliocracy, a weekly book discussion radio show on KPFK 90.7 FM in Southern California. He blogs about books at "OC Bookly" for OC Weekly, and profiles interesting people for the Orange County Register Magazine. He teaches composition at UC Irvine, and represents lecturers and librarians as president of UC-AFT Local 2226.
Address: Delhi Center
505 East Central Avenue
Santa Ana, CA 92707
Parking: Free
Entertainment: Son Del Centro:
Son Del Centro With Zach De La Rocha of Rage Against the Machine
Day of the Dead Acoustic March
Ticket Pricing:
– $15 Pre-sale
– $20 Pre-sale with food… It is a 5 dollar donation to Building Healthy Communities/Equity for All Workgroup in their efforts to incubate and develop Santa Ana based worker cooperatives.
– $20 at the door
Person of Contact: Patrick Conlon
patconlonman@gmail.com
Doors Open: 6:30pm
Ellen Brown: 6:45pm
Son Del Centro: 7:30pm
Richard Wolff: 8:10pm
Q&A: After 9pm
Complementary Refreshments: Coffee & Tea
Tickets and more info is available here –
http://drrickwolffinoc.brownpapertickets.com/