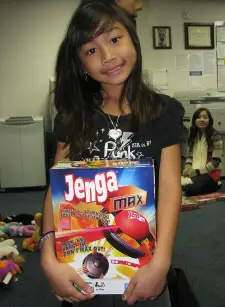 It's that time of year!!!  The Cambodian Family Youth Program is hosting a toy drive! We are short some toys this year. If you would like to donate to our program, drop by our Youth Program.  This year's Goal: 70 toys,
Here's what we're looking for:
new
at least $7-10 (or find a good deal! 😉
ages 6-17
unwrapped
Thank you all for your support. If you would like to see the faces of the kids who are receiving the toy, please come by our Christmas Party on Friday, December 16, 2010 between 5:30-8:00pm. We'll have a potluck-style dinner, short entertainment, social dance, and proceed with our toy give-away.
If you would like, you can also purchase a toy online and have it shipped to The Cambodian Family at 1626 E. Fourth St, Santa Ana, CA 92701.
Any questions or comments, please contact us.  Ask for Phalen, Sotheara, or Linda.  714-571-1966 ext. 111.