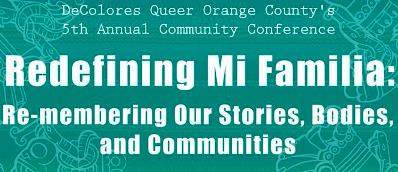 Join DeColores Queer Orange County for our 5th Annual Community Conference! The theme for this year's conference is "Redefining Mi Familia: Re-membering our histories, bodies, and communities."
As a community we aim to redefine "famiia" and what that looks like for Queer and Trans Folks of Color. We are re-membering parts of us that have been fragmented (i.e. our histories, bodies, and communities) in order to be whole again and no longer compromise who we are.
The event will take place this Saturday September 6, 2014, from 9:00 am to 4:30 pm at Latino Health Access, located at 450 W 4th St, Suite 130, in Santa Ana.
This event is completely FREE to the community. We have confirmed amazing workshops and performances. This year our Keynote Presentation will be facilitated by Transgeneros En Accion, an amazing Trans Latin@ group that is based in Santa Ana, CA.
Lunch will be provided (Vegan options available)! Danza and Ballet Folklorico performances, Resource Fair, Queer Tiendita.
To register, please fill out this online form.  (On-site registration will also be available, but we do encourage you to register before).