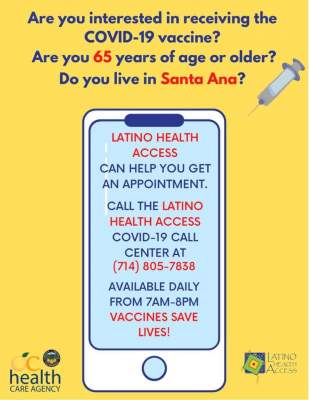 Are you over age 65 or do you have parents, grandparents, family members and friends who are?
COVID-19 vaccination clinics for Santa Ana residents age 65 or older are available by calling Latino Health Access at (714) 805-7838 to make an appointment.
It's important that everyone in Santa Ana get vaccinated to protect our community!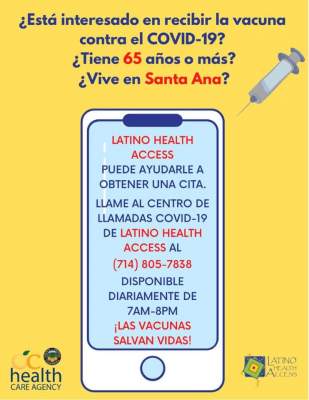 Vacunas contra el COVID-19 para los residentes de Santa Ana
¿Tiene más de 65 años o tiene padres, abuelos, familiares y amigos que lo sean?
Las clínicas de vacunación contra el COVID-19 para residentes de Santa Ana mayores de 65 años están disponibles llamando a Latino Health Access al (714) 805-7838 para hacer una cita.
¡Es importante que todos en Santa Ana se vacunen para proteger a nuestra comunidad!