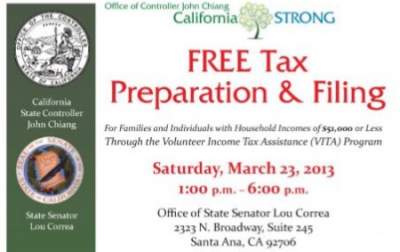 SENATOR LOU CORREA AND STATE CONTROLLER JOHN CHIANG PARTNER TO PROVIDE FREE TAX PREPARATION SERVICES
March 04, 2013
Senator Lou Correa and State Controller John Chiang partner to provide the community a free 2013 Income Tax Preparation Workshop through the Volunteer Income Tax Assistance (VITA) Program. Low income families and individuals with annual incomes of $51,000.00 or less are encouraged to call and schedule an appointment for the workshop held on Saturday, March 23, 2013.
"During difficult economic conditions, low income constituents can find it difficult to understand and pay for tax preparation services." said Senator Correa. "It is an honor to provide free tax preparation services to low income families and individuals who are willing to avoid default on their filing obligations which proactively returns money back to the community."
The tax preparation workshop will take place Saturday, March 23, 2013 from 1:00pm to 5:00pm at Senator Correa's District Office, located at 2323 North Broadway, Santa Ana, CA 92706. All services require an appointment and are based on eligibility. Please RSVP at 714-558-4400 to see if you qualify for the free tax preparation and filing services.
Taxpayers are required to bring the following information once their appointment is confirmed:
• Proof of identification
• Social Security Cards for themselves, spouse and dependents and/or a Social Security Number verification letter issued by the Social Security Administration,
• Individual Taxpayer Identification Number (ITIN) assignment letter for themselves, spouse and dependents,
• Wage and earning statement(s) Form W-2, W-2G, 1099-R, from all employers, Interest and dividend statements from banks (Forms 1099),
• A copy of last year's federal and state returns if available,
• Proof of bank account routing numbers and account numbers for Direct Deposit, such as a blank check, and
• The total paid for daycare provider and the daycare provider's tax identifying number (the provider's Social Security Number or the provider's business Employer Identification Number)
This is a free service for low-to-moderate income taxpayers who are filing basic 2012 federal and California state tax returns. Taxpayers with complex tax issues or in need of tax advice should consult a professional tax advisor.
Volunteers are certified by the IRS and all information is confidential. Some individuals may be eligible for the Earned Income Tax Credit, which is a federal tax refund for low-to-middle income individuals and families. To file taxes electronically on a married-filing-joint tax return, both spouses must be present to sign the required forms.
Senator Correa represents the 34th District, which includes the cities of Anaheim, Buena Park, Fountain Valley, Fullerton, Garden Grove, Huntington Beach, Long Beach, Los Alamitos, Santa Ana, Seal Beach, Westminster and the community of Rossmoor.
####