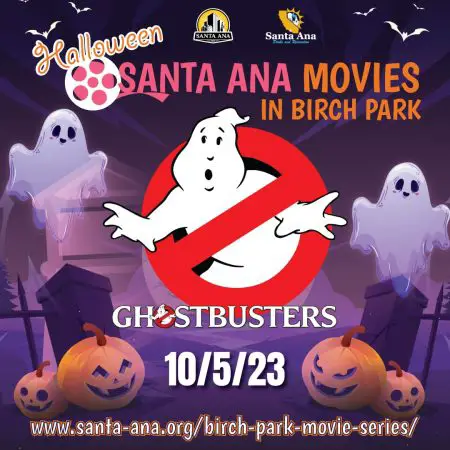 Spooky movies are soon coming to Santa Ana's Birch Park during the month of October!
Get excited as the City of Santa Ana Birch Park Movies Series officially begin on Oct. 5 – 26. Enjoy classic films every Thursday in October with themed activities and family-friendly fun.
Guests can look forward to:
Free popcorn for the first 100 people, courtesy of the Frida Cinema
A concessions stand with drinks and snacks for sale
Special discounts to select nearby restaurants
A community band performing prior to the start of the movie
The nearest parking is located at the 3rd and Birch parking garage.
The following movies will be screened:
10/5/23 Ghostbusters (1994)
10/12/23 Ghost (1990)
10/19/23 The Haunting (1963)
10/26/23 Poltergeist (1982)