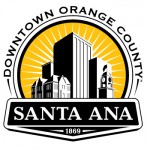 City of Santa Ana, Downtown Orange County
Press Advisory: Significant Windstorm Event Preparation
The weather service is predicting a significant windstorm event effective 12/1/11, at 12 AM through Friday. Winds are predicted to potentially be in the 60-80 mph range, however Santa Ana may see lesser wind speeds. Public Work's main objective during night time hours will be to clear the Right of Ways of major debris, clear city debris from private property and to make the affected areas safe.
Staff has met to prepare for this event as follows:
After hour call out personnel will be ramped up as needed.
A comprehensive cleanup plan will be implemented for daylight hours, with crews assigned geographically in four quadrants of the City.
Coordinated with Police Dispatch to obtain appropriate situation information from the public as calls come in to better coordinate Public Works' resources for response.
Coordinated with Parks and Rec to establish equipment staging areas throughout the City and for storage of the cleared debris.
Coordinated with Waste Management for additional 40-yard roll off containers to be delivered at the designated parks for debris removal.
Contacted West Coast Arborists to ensure availability on an as needed basis if Public Works resources are maximized.
Public Works maintenance crews will be the primary responders. Depending on the scale of the event street sweeping operations may be suspended in order to assist with the wind debris cleanup.
To report wind damage incidents please call Public Works at 714-647-3380. For after hours, please call Police Dispatch at 714-834-4211.
For full details, view this message on the web.
Sent by City of Santa Ana, 20 Civic Center Plaza, 8th Floor/ P.O. Box 1988, Santa Ana, CA 92702