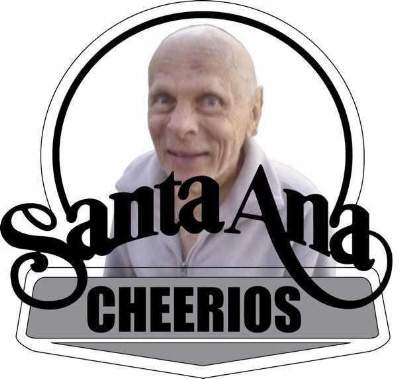 His real name was Kenneth Pierre.  But folks in Santa Ana knew him as "Cheerios."  He was "the old guy who hangs around high school football games, shining a flashlight at passing cars to remind the drivers to turn on their headlights," according to the O.C. Register.
Robert Sanchez started a Facebook group devoted to Cheerios and it was there that he posted this sad goodbye today:
I'm very saddened to let everyone know, that Kenny aka Cheerios passed away this past Friday morning at 7:30am, from an illness. Kenny was a big part of Santa Ana's youth since the 70's. The man with the flashlight was everyones friend as he looked after us with his flashlight. Santa Ana dind't just lose an ICON, we all lost a great friend. May you rest in peace Kenny and the light of your flashlight will always light up our hearts in your memory.
According to the O.C. Register, Cheerios grew up in Chicago and worked for a time at General Motors, putting cars together. He moved with his parents in 1980, and started going out with his flashlights not long after.
A flashlight vigil is coming, perhaps as soon as tomorrow at a gas station on Bristol and Segerstrom.  Word has it that folks will be cruising in Cheerios' honor.
Cheerios came to Santa Ana when Latinos were still a minority here.  And he stayed as the city grew and changed and became dominated by Latinos.  But you know what?  His biggest fans were Latino residents – in his own way he spent his life here in town sowing seeds of good will.  He has earned his ticket to Heaven.  Rest in peace Cheerios!
UPDATE: The O.C. Register has published an article about Cheerio's passing.  Here are a few excerpts:
Text: Next Article »
Santa Ana's beloved 'Cheerios' dies
By DOUG IRVING / THE ORANGE COUNTY REGISTER
SANTA ANA – A myth of a man known and loved as "Cheerios" by generations of Santa Ana schoolchildren has died. Kenneth Pierre, the man with the flashlights, was 83.
Pierre made it his life's work to keep young drivers safe, shining his flashlights at them outside high school football games to remind them to turn on their headlights. Stories circulated that a car with its lights out had once hit and killed his wife and son.
The reality was that Pierre never married, never had a son and had no greater motive for his nightly vigils than watching out for others. "I saw too many accidents in this city, too many," he told the Register in a 2009 interview. "People forget to turn on their lights, they forget if you don't tell them to. I know."
Click here to read the rest of the Register's article.