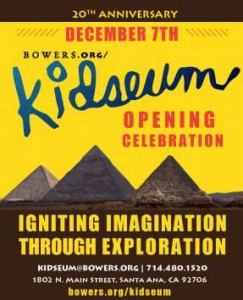 FOR IMMEDIATE RELEASE
MEGAN MARTINEZ, VICE PRESIDENT OF DEVELOPMENT & MARKETING
714.567.3635 | MMartinez@bowers.org
Kidseum Celebrates 20 Years with a Grand Reopening on December 7, 2014
Santa Ana, Calif. — The Bowers Museum is proud to announce that it will celebrate Kidseum's 20th anniversary with a whole new look and programming for the 21st century. Kidseum will be high-tech and interactive with a focus on it's new mission, "Igniting imagination through exploration," stressing the excitement of art and archeology.
A few of the many new areas to explore include the "Green Screen Time Machine," where children and their families can travel to the world's most historic sites on a Wells Fargo Stagecoach. Visitors to Kidseum will be able to experience the famous 45,000 year old Caves of Lascaux, France in a unique Glow Cave with special glow-in-the-dark projects.
Smart Boards and Smart Tables have been installed for a variety of programs from storytelling to lessons about our diverse world cultures.
A richly equipped Archaeology lab will invite the visitor to explore the world of archaeology using the tools of an archaeologist in a royal Egyptian tomb. Everything at the new Kidseum is designed to excite not just the children, but the entire family with many activities for
families to do together. A public celebration will take place on Sunday, December 7, 2014 with free admission to explore our world through artifacts, ancient monuments and legends our ancestors left behind.
###
BOWERS' KIDSEUM, in Santa Ana, is open for school tours Tuesday through Friday, the after school program runs Monday through Friday and the pre-school adventures every Friday. The general public is invited to participate in the many Kidseum programs and activities every
Friday through Sunday from 10 am to 4 pm. Admission is $6 per person, children under 2 are free. Special programs may have additional fees.
Extended hours are available during winter, spring and summer break. For more information, visit our website at www.bowers.org/kidseum
Address: 1802 North Main Street, Santa Ana, CA 92706
Tickets and Information | 714.480.1520
School/Group Tours: grouptours@bowers.org | 714.567.3680
Membership: membership@bowers.org | 714.567.3639