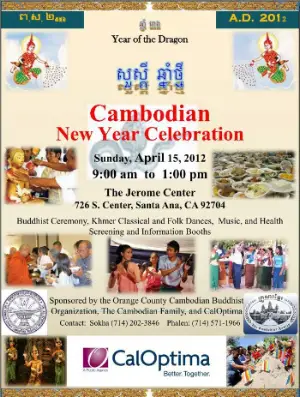 Join the Cambodian Family in celebrating the Year of the Dragon at this year's Cambodian New Year Celebration, on Sunday, April 15, 2012, from 9:00am until 1:00pm, Jerome Park, located at 726 South Center Street, in Santa Ana, featuring:
Religious Buddhist Ceremony
Cambodian Traditional Dances
Free resources and screenings
Any and everyone is welcomed. This event is FREE. Parking is available on a first come first serve basis. We suggest you carpool and arrive early.
Contact: Sokha 714-202-3846 or Phalen 714-571-1966 ext. 108
Sponsored by:
Orange County Cambodian Buddhist Organization
The Cambodian Family
CalOptima