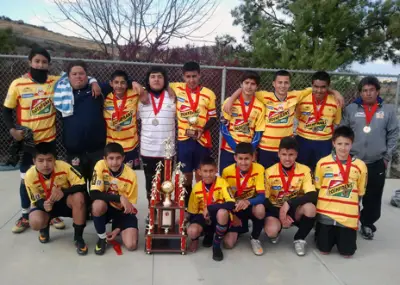 The youth soccer organization Monarcas Santa Ana is signing with the professional Mexican soccer club, Monarcas Morelia, as their official Training Center in Southern California!  Their project CeFoMM Santa Ana [Centro de Formación Monarcas Morelia de Santa Ana] is quite an achievement for Santa Ana, as soccer is cherished as an integral part of our community.
Their goal is to develop the local youth soccer talent to the professional ranks. This partnership is highly relevant as many of the Santa Ana local residents and/or their families [even City Council members] hail from the state of Michoacán, México of which Morelia is the state capital.
They will be having an Inauguration Ceremony on Wednesday 6:30 pm, on April 11, at the Santa Ana Stadium. The Monarcas Club has sent as their official representative Mr. Osvaldo Castro, Monarcas Administrative Coordinator of Fuerzas Básicas [U-20 Academies], for this signing and other fútbol activities.
If you have any questions, you may contact the Club's President, Mr. Guillermo Camino, at 714-728-9117.