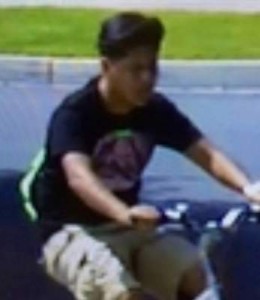 Neighbors in north Santa Ana's Floral Park and Park Santiago neighborhoods have been buzzing about an increase in burglaries in their areas over the past few weeks.  This comes just after the Santa Ana police officers got a new contract and, I am told, that the City Council has extended an offer to their current Temp Chief of Police, Carlos Rojas.
The City of Santa Ana generally looks out for these neighborhoods as they are filled with VIPs, including Mayor Miguel Pulido, who lives in Floral Park, and Parks and Agency Director Gerardo Mouet, who lives in Park Santiago.
One suspected burglar, pictured above, has been seen zipping around Park Santiago on a motor bike and he was even followed by a resident, who asked him if he lives here.  He threatened to call the police but left after the concerned resident invited him to do so.
Another pair of suspects, including a guy in a wheel chair, were caught breaking into a car parked at the Park Santiago baseball diamond.  Residents suspect that the criminal element is using the trails by Santiago Creek to invade their neighborhood.
I have been complaining for years about the random men who hook up with each other at Santiago Park.  You often find used condoms and rubber gloves along the Santiago Creek trails.
The criminals in town better watch out. Residents are fighting back.  They are taking pictures and posting information on Facebook and on a site called Next Door. And they are communicating with the police regularly.  The SAPD officers even patrol Santiago Park on horseback.
This all comes at a time when many residents of these neighborhoods are leaving.  There are For Sale signs all over Santiago Park.  The incoming residents are mostly what you might term "yuppies" and those leaving are mostly seniors, who are cashing out and in many cases are leaving the state altogether.
You can keep track of crime in Santa Ana on CrimeMapping.com.  Regrettably ours is one of the only big cities in Orange County that does not make crime data public for residents to peruse. Both Anaheim and Irvine make their police blotters available for review online as does the Orange County Sheriff's Department.
You can make criminal complaints online at the SAPD's website.  You can also submit anonymous crime tips online here or call 1-855-TIPS-OCCS.