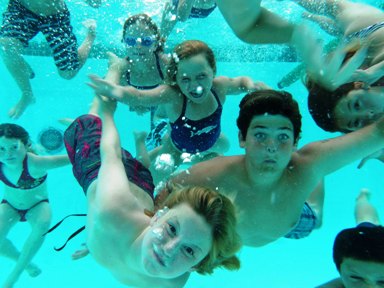 SANTA ANA, CALIFORNIA – Blueray Management LLC, a top aquatics and recreation provider, has partnered with the City of Santa Ana Parks and Recreation department to keep the city aquatic facilities open this upcoming 2012 summer with superior aquatics programming. The company will provide the city with its superior aquatic programs for all ages, including Learn To Swim Lessons, Aqua Aerobics, Youth Swim Team, Youth Water Polo, and much more at all five city aquatic facilities.
Managing Director, Abby Pearose has over 15 years experience in the aquatics industry, as a swimmer athlete, coach, and service provider. He describes Blueray Management's aquatics services as, "…second to none and that Blueray is committed to create a major impact this upcoming season and build a stronger community through our aquatic programs. We are going to give it all we got this summer and not hold anything back. Our team has been working countless hours preparing to make an impact from day one of programs. We expect residents of the City to notice the difference in programming quality instantly. Our goal is to offer the city with more of our superior programs in the fall, such as Baseball Teams, Basketball Teams, After-School homework labs, to name a few." Blueray will operate all five city aquatic facilities during non-recreation swim times (1:00 pm – 4:30pm, times may vary by facility) at the following facilities:

1. Memorial Pool – 2102 South Flower St, Santa Ana, CA
2. Jerome Pool – 726 South Center, Santa Ana, CA
3. Salgado Pool – 706 N. Newhope, Santa Ana, CA
4. El Salvador Pool – 1825 W. Civic Center Dr, Santa Ana, CA
5.Santa Anita Pool – 300 South Figueroa, Santa Ana, CA
Blueray's "Learn to Swim" program follows a combination between American Red Cross and Blueray's Progressive "Learn to Swim" program for ages 4 and up. We encourage children to get involved in a Parent/ Infant format as early as six months of age. We believe that constant positive reinforcement is the best way to encourage kids or adults to take chances and therefore improve throughout their swim lesson experience. Swim Team is schedule to begin on June 12th, while swim lessons will not begin until June 19th. As a promotion, Blueray (www.blueraymgmt.com) is currently offering a $5 discount per class registration online for the first 2000 classes that are registered before the ON-SITE Registration Day of Saturday, June 9th at 8:00am – 5:00pm at each facility (Times may vary by facility, for more information please visit www.blueraymgmt.com). As a bonus, city residents may register their children for the entire summer and save up to $30 per child. Swim lessons will cost $45 per child for the 8 class/two week session.
Program Dates and Times

About Blueray Management is a comprehensive aquatics and recreation service company that is committed to providing local communities with the best possible service available in Orange County. We are committed to the continual development of our staff through innovative training techniques and hands-on supervision. In addition, each Blueray team member is trained to current American Red Cross standards in-house to guarantee that every community will be provided with only the most experienced team of employees to service their needs.
 Blueray Management is committed to forming strong partnerships with our community partners, directors, and members through hands on supervision and involvement of its community programming. Through its many service offerings, Blueray is passionately committed to helping communities build strong bonds through its innovative aquatics and recreation programs
For more information about the City of Santa Ana and Blueray's offerings, please visit www.blueraymgmt.com or contact them at 949-887-5985. Office hours will be 1-7 pm Tuesday thru Friday beginning June 12th, 2012. Blueray will also have a Santa Ana office at the Salgado Community Center Pool, located at 706 N. Newhope, Santa Ana, CA.
###