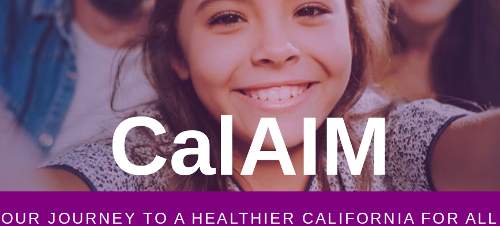 CalOptima will now be able to serve the under-resourced residents of Orange County even better with the January 1, 2022, start of California Advancing and Innovating Medi-Cal (CalAIM) — California's ambitious statewide effort to improve the quality of life and health outcomes for Medi-Cal members.
A five-year initiative from the California Department of Health Care Services (DHCS), CalAIM moves Medi-Cal into a system that is more standardized, simplified and focused on helping enrollees live healthier lives. CalAIM is designed with a whole-person care approach that addresses social determinants of health with a goal to extend supports and services beyond hospitals and health care settings directly into the community, with the added support of care coordinators who can help members navigate their benefits.
"Through CalAIM, we will be able to provide greater access to care in collaboration with our clinical providers and community stakeholders," said Michael Hunn, CalOptima Interim Chief Executive Officer. "The initiative will help address many of the complex challenges facing our most vulnerable residents, including the unsheltered, and the growing aging population who will benefit from better coordination of care."
On December 28, 2021, California secured the authority it needed from the Centers for Medicare & Medicaid Services (CMS) to fully execute its larger CalAIM initiative, which provides benefits to certain high-need, hard-to-reach populations identified by DHCS, with the objective of improving health outcomes for Medi-Cal beneficiaries. CMS granted authority based on successful prior programs, including Whole Person Care Pilots, the Drug Medi-Cal Organized Delivery System and Specialty Mental Health Services.
"CalAIM will ensure all CalOptima members receive the care they need, when they need it, no matter what language they speak or what ZIP code they live in," said Supervisor Andrew Do, Chair of the CalOptima Board of Directors and Chairman of the Orange County Board of Supervisors. "CalAIM's robust whole-person care approach will give our members with the most complex needs quality care that prioritizes prevention."
Two key components of CalAIM's whole-person approach include Enhanced Care Management (ECM) and Community Supports.
ECM is comprehensive care coordination and management for members with complex needs who are facing difficult life and health circumstances. Community Supports are services offered to meet enrollees' needs for health and health-related services that address social determinants of health, the non-medical factors that impact health outcomes.
ECM is available for those experiencing homelessness, suffering from Serious Mental Illness or Substance Use Disorder, and other members who are most frequently in need of Medi-Cal services. Community Supports include housing transition navigation services, housing deposits, housing tenancy and sustaining services, and recuperative care. Eligibility for ECM will expand in future phases of CalAIM, and additional Community Supports are expected to become available.
More information about CalAIM can be found at www.caloptima.org/CalAIM.