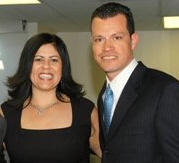 Santa Ana Council Member David Benavides is finally holding a fundraiser for his fading Mayoral campaign, on Thursday, September 20, 2012, from 5:30pm – 7:30pm, at Chapter One Restaurant, located at 227 N. Broadway, in Downtown Santa Ana.
The event's host committee includes Council Members Sal Tinajero, Michele Martinez and Vince Sarmiento.  No other politicians or community leaders were referenced on the email blast sent out by the Benavides campaign.
You can RSVP for this event by sending an email to Friends@DavidBenavides.com or by calling (714) 475-1630.
This appears to be Benavides' first fundraiser.  Ward 3 candidate Eric Alderete, who is also supporting Benavides (although his name is not listed on the host committee for this event) has had at least three and possibly four fundraisers since he announced his campaign, by comparison.
The choice of Chapter One to host this event is no surprise as they have previously hosted events for Martinez and Alderete.  However when they were last visited (in June of this year) by the Orange County Health Care Agency they received the following health violations:
Signs/Labels/Menu Board/Trans Fat-Missing/Incorrect/Lack of Food Handler Card
Improper Holding Temperatures of PHF
Unsanitary Equipment/Utensil/Linen/Plumbing
Inadequate Hygiene (Hair/Clothing/Eating/Drinking)
Lack of/Unsanitary/Condition Walls/Floors/Ceilings
Lack of Food Protection Manager Certificate
Other restaurants in the downtown area have worse records – and hopefully this one has cleaned up its act since their last health inspection.