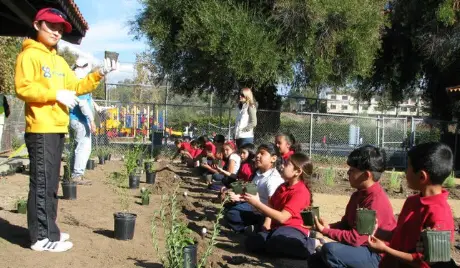 New Public Programs in Santa Ana!
Back to Natives is partnering with Santa Ana Parks, Recreation and Community Services Agency to provide public programs at the Santiago Park Nature Center beginning in March, 2011. Community members from throughout Orange County will have an opportunity to enroll in classes on a variety of topics. The Nature Center is located at 600 E. Memory Lane in Santa Ana.
Click here to friend Back to Natives on Facebook.
Biodiversity and Why We Care
Saturday, March 5, 10 – 11:30AM
Join Reginald Durant from Back to Natives to learn all about Biodiversity — the variation of life on Earth. In South Coastal California we live in a biodiversity hotspot within a hotspot. Learn why biodiversity is important, why it is threatened, why we should care, and what we can do to protect it. $5.
Core Nutrition
Mondays, 3/7 – 4/4, 6:30 – 7:30PM
Join Back to Natives and spend some time in Nature while getting healthy! Samantha Probst, nutrition specialist and Wellness Coach will help participants understand nutrition and the role it plays in the development of our body. Each week we will be discussing a different topic to empower and inspire participants to sustain healthy eating habits, and manage their weight, energy and vitality. Topics include "Garden to Table", "Empowering Food to Fuel your Body," "Power Foods for the Busy Lifestyle," "De-Mything Food Facts," and "Energizing your Day with Healthy Habits." $50/5 Weeks.
Propagation of Native Plants
Wednesdays, 3/9 – 5/11, 10AM – 12PM
Join Back to Natives for a hands-on class to increase your native plant propagation knowledge. Participants will learn which native plants propagate best by seed, cuttings, layering, and division, and examine unique methods for mimicking nature's scarification process. The biology, anatomy, history, and use of these propagation techniques will also be covered, briefly. Each week for ten weeks students will accompany Back to Natives staff on a visit to the Santiago Park Nursery where they will help propagate native plants for use in habitat restoration and environmental education projects. Students can choose to count class time toward volunteer hours, or choose to take home up to ten native plants for their garden! $60/10 Weeks.
Composting Workshop
Wednesdays, 3/9 – 5/11, 1 – 3PM
Join Brian Maddock from Back to Natives to learn the step by step process of decomposition and the conditions necessary for composting efficiently. Brian will discuss appropriate composting material and the importance of brown to green waste ratio. This course will explore the many techniques used to compost organic food/yard wastes including proper air flow, moisture levels, temperature, and compost material. During each class, participants will engage in an hour lecture on the fundamentals of composting, as well as an hour of hands on experience. $50/10 Weeks.
Permaculture: Edible Landscape
Wednesdays, 3/9 – 5/11, 3:30 – 5PM
Join Brian Maddock from Back to Natives to learn about complex ecological systems and how they can be utilized to maximize growth potential in a permaculture garden. Creating a cradle to grave system in your garden will allow homeowners to lower the cost of maintenance and sustain natural resources. Participants will learn about the biological relationship between plants, microorganisms, and the soil; which create a harmonious system that recycles waste and adds nutrients to the soil. Homeowners that understand these systems possess the ability to maintain a sustainable food source in their own back yard. $50/10 Weeks.
Have you volunteered with Back to Natives?
Without funding, BTN can not put on volunteer restoration events!

Become a member now!
Or donate just $5.00 to keep BTN operating!