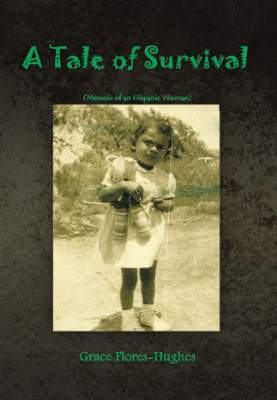 Author Grace Flores-Hughes to Speak and Sign Her Book "A Tale of Survival: Memoir of an Hispanic Woman" at Librería Martínez de Chapman University, Tuesday, February 18
Author Grace Flores-Hughes will appear in person to talk about and sign her book "A Tale of Survival: Memoir of an Hispanic Woman" at Librería Martínez de Chapman University on Tuesday, February 18 at 7 p.m.   In the presentation and in her book, Flores-Hughes tells her own story — of a Mexican-American girl growing up in south Texas during the '50s and '60s and the challenges she faced on a daily basis just to survive.
The event is free and open to the public, and Flores-Hughes' book will be on sale at the venue.   Librería Martínez de Chapman University is located at 216 N. Broadway in Santa Ana – call 714-973-7900 for more information.  Sales of the book (and all items in the store) benefit the educational programs of Librería Martínez de Chapman University.
Actress and filmmaker Kamala Lopez calls Flores-Hughes' book "a remarkable account of an era and a culture heretofore unknown to the general public.  This book is a powerful inspiration to all readers that one can truly steer the ship of one's own destiny, regardless of all obstacles, both internal and external.  One senses a great pride in Ms. Flores-Hughes for her people, and a true desire to stand as a beacon of hope for those who are coming up behind her."
Grace Flores-Hughes has been both a career civil servant and a political appointee in the federal sector.  She served as one of the highest-ranking Hispanics in the administrations of three Republican presidents.  Born in Texas, the Harvard-educated Flores-Hughes is the author of numerous magazine articles on diversity and on the term "Hispanic," which she helped coin.  Currently, she lives in Virginia with her husband Lt. Gen. Harley A. Hughes, USAF (Ret.).
ABOUT LIBRERÍA MARTÍNEZ DE CHAPMAN UNIVERSITY Librería Martínez de Chapman University is, first and foremost, a lively bookstore, art gallery and community gathering place in Santa Ana, founded by Orange County literacy activist Ruebén Martínez and devoted to offering the best in teens' and children's literature in both Spanish and English.   It is also a nonprofit community educational initiative, developed and run in partnership with Chapman University's College of Educational Studies.  Programming includes literacy and academic counseling programs, reading clubs, book discussions, author signings and more.  Ruebén Martínez is a Distinguished Presidential Fellow at Chapman University and a winner of the MacArthur Foundation Fellowship (the "genius grant").
ABOUT CHAPMAN UNIVERSITY Consistently ranked among the top universities in the West, Chapman University provides a uniquely personalized and interdisciplinary educational experience to highly qualified students.  Our programs encourage leadership in innovation, creativity and collaboration, and focus on developing global citizen-leaders who are distinctively prepared to improve their community and their world. For more information visit www.chapman.edu.