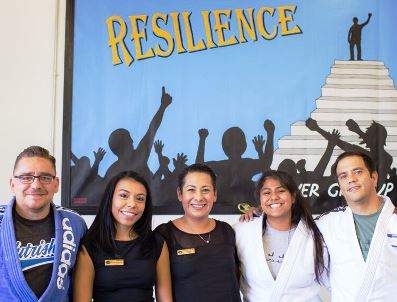 COMMUNITY SERVICE PROGRAMS RECOGNIZED CREATIVITY OF YOUTH AT FIRST-EVER ARTS (ACHIEVING RESILIENCY THROUGH STRENGTHS) SHOWCASE
Nonprofit CSP Honored Youth Who Demonstrate Inspiring Ability to Recover From Difficulties and Become Strong, Healthy and Successful
Fountain Valley, Calif. (July 20, 2015) – Community Service Programs (CSP), a nonprofit organization committed to providing high-quality counseling and support services to struggling Orange County children and families at their greatest time of need, honored participants in its Youthful Offender Wraparound Full Service Partnership (YOW) and Collaborative Courts Full Service Partnership (CCFSP) at the inaugural Achieving Resiliency through Strengths (ARTS) Showcase on Thursday, July 16 at CSP's YOW and CCFSP Guidance Center in Fountain Valley. The event featured live performances and creative work from at-risk youth who participate in YOW and CCFSP programming to bounce back from difficulties, including those caught up in the child welfare, juvenile justice, probation and children's mental-health systems in Orange County, Calif.
CSP recognized participants for their achievements in all forms of art in partnership with its collaborative partners. ARTS Showcase 2015 attendees were able to experience works created by youths 14 to 25 years old that demonstrated their resiliency, including through:
Creative Arts: Works of art were displayed that had been created by youth as inspired through The ARTbar of Santa Ana
Musical Arts: Music creation and performances were held, assisted by CA Music Studios and Anaheim-based Project RYTMO (Reaching Youth Through Music Opportunities)
Martial Arts: The sport of Jujitsu was demonstrated by youth working with Fountain Valley-based Global Jiu Jitsu
Working Arts: Catering by youth involved with Fullerton-based Monkey Business Café through the Work Experience Program was provided
Social Arts: Etiquette demonstrations including CSP youth taught by To Love and To Cherish through The Etiquette School of Newport Beach were held
Culinary Arts: Sample desserts, such as cheesecake, were prepared by youth involved with Lake Forest-based Culinary Campus cooking lessons
"This first ARTS Showcase was a huge success. More than 150 community members witnessed first-hand the resiliency and strengths of our YOW and CCFSP youth clients," said Hether Benjamin, Community Service Programs (CSP) director of Youth Development Programs. "CSP is proud to support and walk alongside at-risk youth at their greatest time of need. It is very rewarding to see our clients learn how to cope, become healthy and strong, and bounce-back from difficulties they face."
CSP's YOW and CCFSP programs are offerings of CSP's Youth Development programs, which provide comprehensive rehabilitation and support services to youth experiencing behavioral and emotional problems to strengthen family, peer, school and community relations. Services are provided to specialized populations in Orange County involved with or at risk of involvement with the child welfare, juvenile justice, probation and children's mental-health systems.
Youth Development programs serve over 7,500 youth each year, producing results such as:
90-plus percent success rate of reuniting children with their families by finding solutions to their very complex problems
76 percent of youth complete diversion programs instead of entering the juvenile justice system
94 percent decrease in episodes of psychiatric hospitalizations
91 percent decline in days youth are homeless
75 percent reduction in youth incarceration
50 percent boost in youth gaining employment experience
Daisy Lazo, age 19, a client of CSP CCFSP, said, "We are all trying to overcome something. CSP have given me so many resources and skills, like helping me write a resume, get into school and even how to be a better parent. They have many resources to help those that feel stuck."
CSP YOW & CCFSP is funded by the Mental Health Service Act in collaboration with Orange County Health Care Agency.
YOW provides culturally competent, in-home and community-based intensive case management, mental health rehabilitation, counseling, career and education coordination, housing placement stabilization, independent living-skills training, crisis intervention and psycho-educational support to youthful offenders who struggle with mental illness.
CCFSP offers individual and specialized supports to juvenile court involved youth struggling with mental illness, truancy and substance use issues. These services teach and promote skills to improve self-efficacy and social competence for youth to be successful in school, employment, community, wellness and recovery.
About Community Service Programs
Community Service Programs (CSP) is a nonprofit agency committed to serving children, adults and families living in Orange County. CSP's model programs assist over 100,000 community members annually, including abused children, struggling families, victims of crime, and those in need of mediation services. For more information on CSP and its programs, visit www.cspinc.org.
###