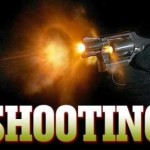 An unidentified 16-year-old boy suspected of firing a handgun was arrested Friday after he was found hiding inside a woman's restroom at Santa Ana's Madison Park, according to the O.C. Register.
The SAPD got calls today just after lunch, at about 12:30 p.m., regarding a shooting at the 1500 block of South Standard Avenue, according to the SAPD.
SAPD police officers found a .380 caliber handgun that may have been used in the shooting in the bathroom.
The suspect was seen running across the street to Madison Park. Police officers found him hiding in the park's women's bathroom. He was arrested and is facing charges that were not announced by the SAPD.
The SAPD indicated that the incident was gang-related.