Orange, CA- On Saturday July 9, 2022, 19-year-old Azarie Fuller from Exeter, Ca was identified as the driver of the Nissan Altima responsible for the collision that killed three people. The vehicle was occupied by Fuller, three male juveniles, two female juveniles, and one male adult.
At approximately 2:47 a.m., two officers from the Orange Police Department were conducting unrelated police activity and observed the Nissan traveling south on Glassell Street at a high rate of speed from Lincoln Avenue.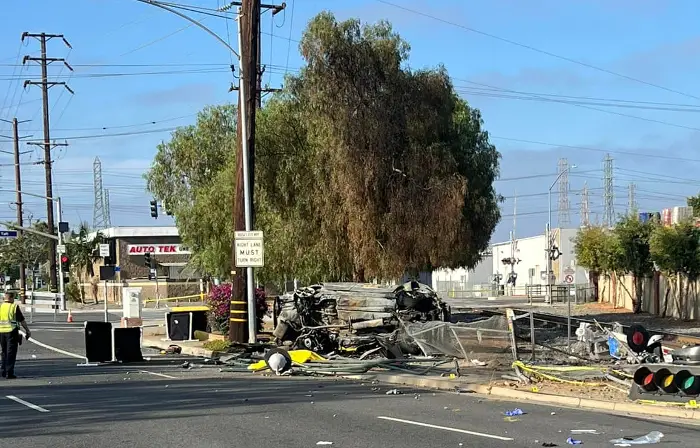 As the officers drove south on Glassell in an attempt to locate the vehicle, they found it fully engulfed in flames on Glassell north of Taft Avenue. They located the seven occupants who had all been ejected from the vehicle. One female juvenile, one male juvenile, and 26-year-old Gustavo Castro from Garden Grove were pronounced deceased at the scene.
Who will you vote for in the OC 2nd Supervisorial District?
The driver, Azarie Fuller, along with one male juvenile and one female juvenile were transported to local hospitals in critical condition. The seventh passenger, a male juvenile, was transported with moderate injuries.
The Orange Police Department Major Accident Investigation Team responded and is handling the investigation.
Witness statements along with evidence at the scene, which included a suspected Nitrous Oxide tank and balloons, indicate alcohol and drugs were likely a factor in addition to speeding.
This investigation is ongoing. Anyone with information is encouraged to contact Motor Officer Bryce Nielsen at 714-744-7444.