A massive fire broke out early this morning, just before 3 .a.m. at the abandoned United Presbyterian Church on Santa Ana building at the 100 Block of East Santa Ana Blvd.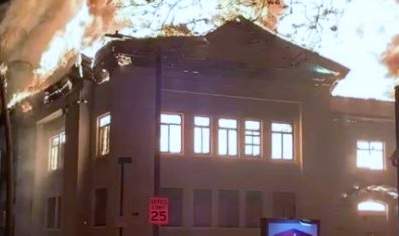 The fire started out as a 3 alarm fire but it quickly became a 4 alarm fire with roughly 25 fire units and 100 firefighters on scene, according to the OCFA.
Early reports of an abandoned church with fire through the roof. Immediate upgrade to 3 alarms for additional resources.
The fire was declared knocked down at 4:38 a.m. No injuries to firefighters were reported at that time.
Fire units stayed on the scene for an extended amount of time to conduct overhaul and to begin a fire investigation.
The OCFA reported this afternoon that the burned building was not in use, and it was assessed at $2.2 million. It is a complete loss.
Fire investigators are still on scene and are still conducting their investigation.
Santa Ana City Councilman Phil Bacerra reported on Facebook this morning that the United Presbyterian Church congregation initially met at the home of James McFadden and then subsequently in other church buildings. The building that was destroyed by fire today was dedicated on May 22, 1912. It was just 15 days shy of its 108th birthday.
While the fire was tragic at least now the NIMBYs won't be able to stop new development from happening at this location.