A coyote that may have been cornered by four miniature pinscher dogs ended up killing one of them and hurting the rest at about 2:30 a.m. in an unincorporated area of Santa Ana on Monday, according to CBS News.
Area residents heard noises outside and then discovered that a 10-year-old female miniature pinscher mix had been killed in a possible fight with a coyote, according to Orange County Animal Care.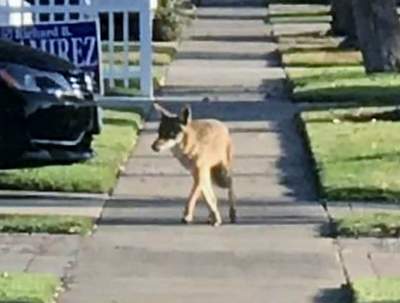 The three injured dogs were quarantined in their home and would be receiving a rabies re-vaccinations.
A coyote was recently seen in Santa Ana in the Cabrillo Park neighborhood. Coyote spoor is often seen along the Santiago Creek trail as well. And coyotes are regularly sighted at Mile Square Park in Fountain Valley.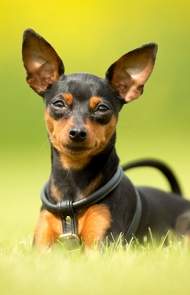 To report a coyote in Orange County, call 714-935-6848 or 714-259-1122.
The University of California also provides an online map where residents can report and track coyote sightings in their neighborhoods.
"Coyote country" precautions courtesy of the CA Dept. of Fish and Wildlife:
Never feed or attempt to tame coyotes. The result may be deadly conflicts with pets or livestock, or serious injuries to small children.
Do not leave small children or pets outside unattended.
Install motion-sensitive lighting around the house.
Trim ground-level shrubbery to reduce hiding places.
Be aware that coyotes are more active in the spring, when feeding and protecting their young.
If followed by a coyote, make loud noises. If this fails, throw rocks in the animal's direction.
If a coyote attacks a person, immediately contact the nearest Department of Fish and Wildlife or law enforcement office.
Stash Your Food and Trash
Allowing coyotes access to human food and garbage is reckless and deadly.
Coyotes primarily hunt rodents and rabbits for food but will take advantage of whatever is available including garbage, pet food, and domestic animals.
Put garbage in tightly closed containers that cannot be tipped over.
Remove sources of water, especially in dry climates.
Bring pets in at night, and do not leave pet food outside.
Avoid using bird feeders as they attract rodents and other coyote prey.
Provide secure enclosures for rabbits, poultry and other livestock.
Pick up fallen fruit and cover compost piles.
Ask your neighbors to follow these tips.
OC Animal Care receives many calls about wildlife from residents throughout the year. In an effort to alleviate their concerns, we have some helpful tips to discourage wildlife activity in their neighborhoods.
Cats and small dogs can be easy prey for predators and should be supervised as closely as possible or kept indoors.
Keep pet food indoors and do not leave food of any kind outside at night. Food left out at night will be taken as a welcome invitation by wildlife, and may prompt a future visit.
Remove any fruit which has fallen to the ground.
Store trash in covered, heavy-duty containers.
Keep yards free from potential shelter such as thick brush and weeds, and enclose the bottoms of porches and decks.
Eliminate garbage, debris, lumber piles, etc.
Check fencing and try to eliminate access points to roof tops.
Change automatic sprinkler settings regularly.