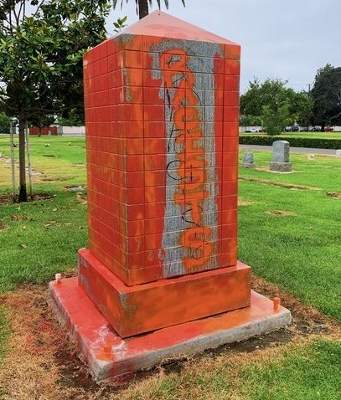 A monument put up in the Santa Ana Cemetery by the Sons of Confederate Veterans was defaced with red paint over the weekend, and — unrelated to the vandalism — it may soon be removed entirely, according to Fox News.
The 9-foot, 7-ton granite memorial was installed at the Santa Ana Cemetery in 2004 to commemorate some of the county's founding fathers, including those who had fought for the Confederacy during the Civil War, according to the O.C. Register.
The monument was a gray, granite pillar with a pointed top that stands approximately 10-feet tall. An inscription at its base reads: "To honor the sacred memory of the pioneers who built Orange County after their valiant efforts to defend the cause of Southern Independence," according to NPR.
The cemetery is overseen by the Orange County Cemetery District, a publicly appointed board.
Long before this monument was defaced, officials with the cemetery district — which runs the Santa Ana Cemetery and two others — discussed removing the monument because they couldn't find any record of the district's board approving the design and no record that the Sons of Confederate Veterans had received permits to erect the memorial or bought the burial plots it sits on, according to the O.C. Register.
Few people know that Orange County was founded, in great part, by members of the KKK. Here is an excerpt from a post that names names:
In fact, Orange County regards its Klan history fondly enough that there are still public places named after prominent Klansmen. These include a plaque on La Habra's own City Hall dedicated to Lucien E. Proud. The plaque lists Mr. Proud's civic accomplishments, but carries not a word of his Klan affiliation.
Likewise, Plummer Auditorium, a local landmark located on the campus of Fullerton High School, was named for Louis E. Plummer, school superintendent and Klan member.

Also included in the list of public places honoring KKK members are Pieper Lane in Tustin, Corbit Place in Yorba Linda, Fairbairn Street in Orange, Fanning Elementary School in Brea, French Park in Huntington Beach, and Lowell Street in Santa Ana.

So, records show that Orange County was founded by unapologetic white supremacists.

And after its founding, Orange County was ruled by these white supremacists, frequently wearing Klan regalia, for several decades. The records show that the Klan pretty much ran Orange County to suit itself until the 1920s (1922 and 1924, to be specific) when District Attorney Alexander P. Nelson used various non-violent methods to break the Klan's power.
Klan leaders and lecturers were drawing crowds in the thousands in Anaheim, Orange, and Fullerton. In 1925 a well-known Klan speaker addressed a crowd estimated at 5,000 people, in what is now Amerige Park in Fullerton. His topic was 'What's the Matter With America?' Apparently "the alien influence" was the primary cause of America's difficulties, and a solution was "limitation or a complete halt to immigration," according to the Fullerton Observer.
Descendants of KKK members and Confederate traitors still live in Orange County today…but the white robes are long gone. They still however hate immigrants and minorities and are generally NIMBYs opposed to any changes to the areas they still live in.