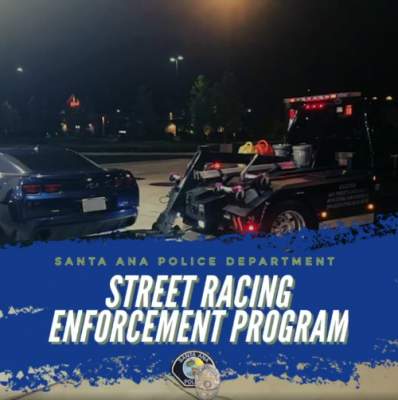 While working a STEARRD (Street Racing Enforcement) program, SAPD police officers responded to a report of street racers in the area of Columbine Ave & Majestic Dr., on Sep. 5.
The police officers observed a 2010 Chevrolet Camaro doing donuts in the intersection. The Camaro fled when officers arrived; however, with the assistance of our allied agencies, the vehicle was located and stopped in the City of Irvine.
SAPD officers responded to the location of the traffic stop and arrested the driver, Jaimiez Valdez, 24-years-old, for reckless driving. She was booked into the Santa Ana Jail and the vehicle was impounded.
SAPD has a zero tolerance policy for reckless driving/street racing and have made this issue our top priority. This is part of the multi-pronged strategy by the city of Santa Ana to combat this serious problem. These activities have proven to be deadly and they pose a clear and present threat to the public safety on our streets.