By Santa Ana City Councilman Jose Solorio
Based on our recent Santiago Creek tour we held with neighborhood leaders, our Police Chief, and new City Manager (Kristine Ridge), the City coordinated for yesterday and today, Operation Santiago Creek. It focuses on the Creek and areas underneath the 5 FWY/ Broadway underpasses.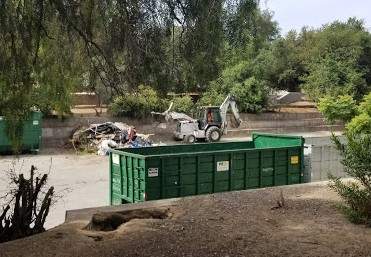 A total of 46 people were contacted at this location yesterday, most of whom were experiencing homelessness:
15 of the 46 had ties to Santa Ana but refused any type of shelter or assistance.
31 of the 46 did not have any ties to Santa Ana. Only 3 of these non-Santa Ana individuals accepted shelter at the Courtyard.
A total of 37 were arrested for violation of the Santa Ana Municipal Code 10-403(C) Unlawful Storage of Property in Public Area, Warrants, or Narcotic Violations.
6 others were contacted but released without any incident.
Also related..a follow-up to the recent meetings I held with our local neighborhood leaders, I placed 85C item (below) on the agenda for next Tuesday (5/21) so we can be clear with City staff that our neighborhoods and residents want to prioritize the use of Measure X tax revenues for addressing our homelessness crisis and public safety issues, as Measure X said it would.
ITEM 85C: DISCUSS AND DIRECT STAFF, AS APPROPRIATE, TO USE MEASURE X FUNDS TO EXPAND CITY'S CURRENT CONTRACT WITH ALLIED UNIVERSAL SECURITY SERVICES TO QUICKLY AND COST-EFFECTIVELY BEGIN PROVIDING SECURITY SERVICES AT FIVE PARKS IN EACH WARD, PLUS SANTIAGO CREEK, DEDICATED BIKE TRAILS OWNED BY THE CITY OF SANTA ANA, AND ADDITIONAL COVERAGE AT CENTENNIAL PARK. UNTIL THE CITY IS ABLE TO DEVELOP A SUSTAINABLE PARK RANGER PROGRAM, THESE EXPANDED SERVICES WOULD ALLOW US TO ADDRESS INCREASING CONCERNS FROM RESIDENTS AND NEIGHBORHOOD LEADERS REGARDING HOMELESS ENCAMPMENTS, TRASH, GRAFFITI, DRUG USE AND RELATED PUBLIC SAFETY CONCERNS – Councilmember Solorio
It would be fantastic if we had sufficient officers to provide more ongoing patrols and services, but our Santa Ana Police Department just has too many vacancies to do more for us at our parks and Creek. Expanding our existing contract with our security services would be much quicker and more cost-effective, so I am hopeful we can do this or something similar.
Like many in Santa Ana, I voted against the Measure, but since it was passed by our voters I want to make we use the new tax revenue wisely and as marketed to voters.
If you could come and speak in support of 85C at the Council meeting next Tuesday that would be best. However, you can also send emails to the City Clerk via the ecomments email below and email the Mayor and City Councilmembers directly from their webpage.
Link to full agenda: http://bit.ly/SACouncilAgenda052119