There was a 2.8 Magnitude earthquake this morning at 9:45 centered at Newport Beach, near Galaxy Drive between the Upper Newport Bay and Newport Bay, according to the U.S. Geological Survey.
Here are the distances of the earthquake from several cities in Orange County:
4km (2mi) ENE of Newport Beach, California
4km (2mi) SSE of Costa Mesa, California
6km (4mi) WNW of San Joaquin Hills, California
11km (7mi) SSE of Fountain Valley, California
11km (7mi) SW of Irvine, California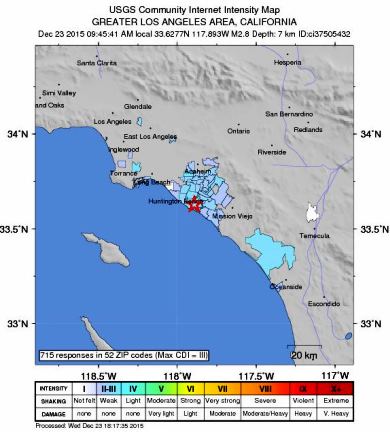 Wednesday's small earthquake comes three days after a pair of similar earthquakes struck near Newport Beach Sunday, according to the O.C. Register.
There have been 8 earthquakes in Reno, NV today ranging up to 4.4 M. Click here for more info about today's earthquakes.
Click here to learn how to prepare for earthquakes, courtesy of the American Red Cross.