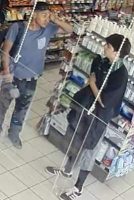 On 5/17/2020, at approximately 2:40 pm, two suspects entered the 7-Eleven store at 2217 E. 17th Street, in Santa Ana, and confronted the store employee (victim) demanding a refund for an item that was not purchased at this location.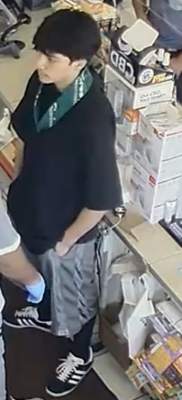 After the employee did not comply with the suspects' demands, Suspect #2 handed a knife to Suspect #1 who got into a verbal and physical altercation with the victim. The victim sustained a stab wound to his arm. Both suspects left the location on foot south on Tustin Ave. from 17th Street.
Suspect #1 described as a male Hispanic, 17-18 years old, 5'-7"-5'9", 140-150 lbs., light skin, with a tattoo on the back of the neck.
Suspect #2 described as a male Hispanic, 18-20 years old, 5'7"-5'9", 160 lbs., and dark skin.
Anyone with information on the identity or whereabouts of these suspects is asked to please contact Detective Capacete at (714) 245-8506 /JCapacete@santa-ana.org or Orange County Crime Stoppers at 1-855-TIP-OCCS.